Poland: Illumination controversies in Warsaw and Gdansk
source: StadiumDB.com; author: michał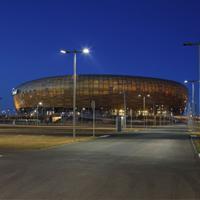 Two Euro 2012 stadiums are being discussed over their use of night-time illumination. The amber-bowl in Gdansk is blacked-out to cut costs, while National Stadium's white-red facade is used as Warsaw's largest advertising space.
Designed to be among Europe's most modern stadiums, PGE Arena Gdańsk and Stadion Narodowy are causing some controversy in recent days. The first stadium dissapears from the horizon of Gdansk's Letnica district every night, because its impressive illumination isn't used. Only the energy supplier PGE has its logo highlited.
PGE's naming rights sponsorship becomes almost ironic as the stadium's operator cannot afford to pay the high electric bill for its lights. One hour of illuminating the golden bowl costs roughly €25 ($33), which means one year bill stands at some €36,000 (should the lights work 4 hours every day). It would have been much lower, up to 4-5 times, had the municipality installed energy-efficient lights, but these were seen as too expensive when the stadium was under construction...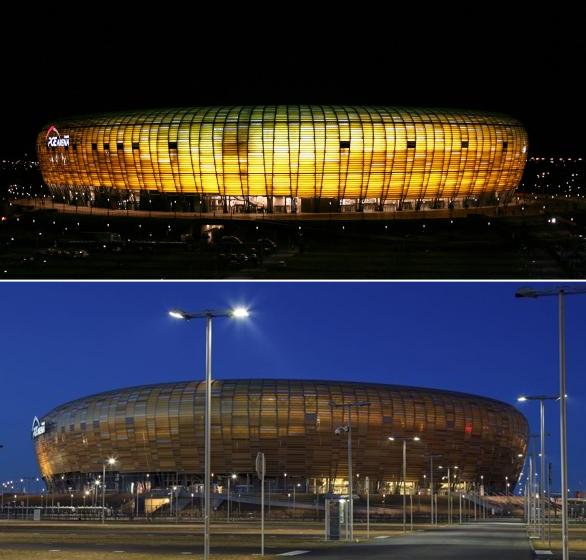 The 44,000-capacity stadium was expected to give a new image to neglected industrial Letnica, but it's struggling with similar problems many local inhabitants have: making ends meet and paying due fees.
Initially managed by private Lechia Operator company in 2011, the stadium failed to meet expectations and went into the red with league games of Lechia hardly attracting desired crowds. Eventually it was taken over by Arena Gdańsk Operator in 2012, a public company that is now trying to pay off the 5 million zloty debt (€1.2m / $1.65m). The municipality hopes to get afloat around 2017.
Meanwhile in Warsaw a different problem arises. Here one hour of illuminating Poland's largest stadium costs over 5 times less than in Gdansk, only 18 zloty (€4.3 / $6) and isn't an issue. The problem is, however, what's being presented on the outer shell of the stadium.
Able to display various patterns onto the white-red aluminium mesh, Stadion Narodowy (National Stadium) has varying decorations during events. For national team games the sign POLSKA (Poland) is travelling around the 900-meter circumference. During Orange Warsaw Festival it displayed performer names, like Beyonce.
But recently it's been used as a regular advertising space, causing controversy. First of all, Warsaw is a city with public space already regarded as the most invaded by advertisments in Poland. And secondly, the stadium's cladding, decorated with national colours and expected to be a symbol of pride, is seen by some as inappropriate place for any sort of commercial signing.
The company currently promoted on the 2-hectare illuminated advertisment is Radio Zet, media partner of the stadium's winter attractions. Before that the stadium also featured Trójka, another radio based in Warsaw, also an event partner. PL.2012+, the stadium's managing company, defends this decision, claiming that it's not going to be a regular practice and Radio Zet only has 30 minutes of exposition per day.
At the same time PL.2012+ assure that they've turned down numerous commercial offers of this kind and are not getting any more flexible in the future, leaving this form of activity only for special partners.