New stadium: Hazza Bin Zayed Stadium
source: StadiumDB.com; author: StadiumDB.com team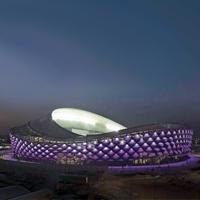 It was supposed to open exactly today, but slight delays caused the family festival to be postponed until January 23. Still, we decided to give you the pre-premiere view of Hazza Bin Zayed Stadium today, it's absolutely worth the rush!
Construction of Al Ain's new football stadium was commissioned in July 2012 and the project contractor BAM Sports had only 16 months to deliver it. Eventually the timeframe proved slightly longer, but delivery was only shifted from October to late December 2013 after changes had to be made in the project.
Initially opening was to take place in December 2013, but the delay caused the ceremony plans to change. A three day family festival was scheduled for mid-January to both celebrate the opening and encourage youth to take up sports. The festival eventually had to be postponed again to January 23-25, while stadium tests are held.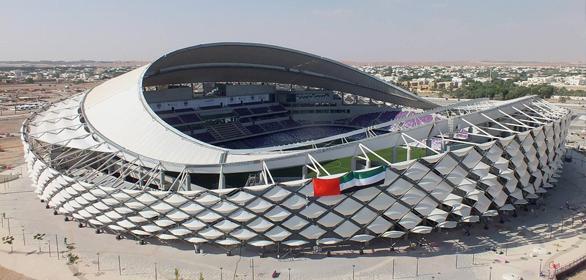 Day-to-day use is provided by domestic football powerhouse and reigning champions, Al Ain FC. The seats and regular nighttime illumination are in purple colours of the club.
Various specialised companies worked on the project, a lot of installation materials had to be air-freighted into the UAE from Europe and beyond due to very specific technologies. Architectural design is the work of Pattern Design. The unique curved roof was engineered by German SBP engineers and despite its modest size, it provides enough shade to protect spectators and not obstruct natural pitch lighting.
At the same time the stadium is well ventilated with its perforated external cladding. That consists of 612 white PTFE panels installed onto a black steel frame. Each panel may open, revealing the interior. At night all panels may be illuminated from the outside, enabling various colour patterns to be displayed.
Seating layout is unique for a stadium of this size – three seating tiers in the east, two in the south and north and dominating all of them is the massive main grandstand with almost 3,000 premium seats.