Italy: Reggiana supporters protest absurd stadium problems
source: FansEurope.org / StadiumDB.com; author: michał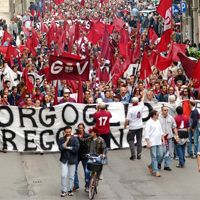 They financed the stadium themselves, but now their club isn't even host any more. They're guests at their own home and are outraged about it. Today they took to the streets after weeks of other protests.
In recent years us and pretty much the rest of the world have been repeating that Juventus Stadium is Italy's first privately owned and operated stadium in Italy. But there's more to this and it would be completely untrue, had the story of Stadio Citta del Tricolore in Reggio Emilia ended in a different way.
The somewhat forgotten club of Reggiana decided to build its own stadium once it won promotion to Serie A in 1993. With great help of supporters (1,029 of them bought season tickets for 10 years in advance), sponsors and with banks providing the remainder it was able to build its own stadium without public support.
However, the club didn't manage to deliver in time the shopping centre that was planned with the stadium. It was supposed to secure the club's stable financial future apart from the modern stadium. As many fans claim now, it was a political game that prevented the club from becoming self-sufficient.
They also feel lack of the commercial revenue that was initially planned was among the reasons of Reggiana's bankruptcy in 2005. The club went bust and had to start over from fourth league, while the stadium's ownership was lost to satisfy creditors. The shopping centre was finished only after the club went down.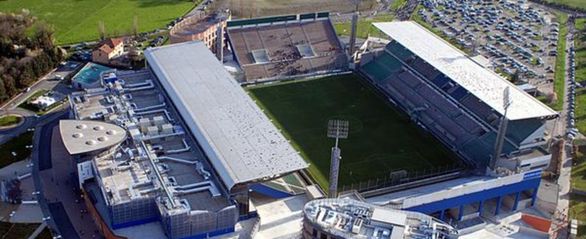 In December 2013 the stadium was put on sale for some 30% of its initial worth, €3.65 million. With Reggiana being too weak to put forward such a sum and the municipality not feeling any responsibility for the facility's future, the stadium was bought by Giorgio Squinzi. The millionaire is the owner of Mapei, construction material giant. Coincidentally, Squinzi also owns Sassuolo Calcio, a club he invests heavy funds in, based just 20km south-east of Reggio Emilia.
In practice the stadium once built with fans effort for their club is now owned and used by a different club, one not even based in the city. This caused outrage in the fan community of Reggiana, who feel betrayed primarily by their own municipality's officials who did nothing to prevent it.
Since December they've been hanging banners, writing graffiti and even went as far as to buy tickets for Sassuolo-Chievo fixture in December. Some 500 people went to the game and for 15 minutes chanted what they think about the absurd situation. Then they left peacefully.
Worth noting, they don't address Mapei group or Squinzi as their adversary, putting the blame on those who led to this situation. This is also the case today as hundreds of supporters took to the streets in another demonstration.