New stadiums: Four more from Poland
source: StadiumDB.com; author: StadiumDB.com team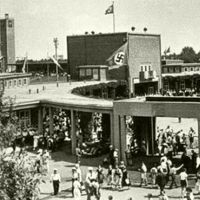 A lot of reading on the history of Poland and Germany: good times and bad times of three old stadiums. Fourth one was built in communist Poland and... seems to have stayed there in a way, unfortunately.
Against some myths surrounding the stadium built in 1928 along Odra's canals, it never hosted any Olympic event. There were rumours giving it part in the 1936 Berlin Olympics, since it was still under German authority and redeveloped at that time. It does have an Olympic accent, though. The design by Richard Konwiarz was awarded bronze medal during the 1932 Olympics in Los Angeles.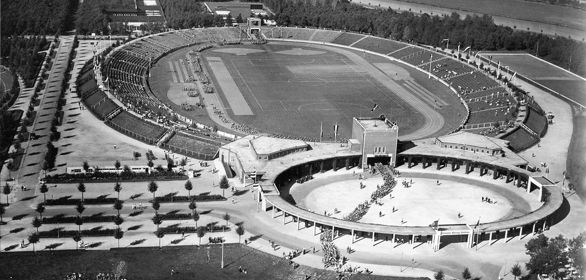 The ground created by Konwiarz was at the heart of Sportpark Leerbeutel, with various surrounding functions incorporated into the vast park around. The elliptic stands were raised on artificial embankments and surrounded a long running track. North and south sides had gates erected, while all of the sporting rooms were located in the south. There was also a colonnade created to surround the southern entrance. All of the elements mentioned exist to this day.
The Nazi plan was to increase this stadium's rank as the Nazis were preparing to expand to the east. In 1933 the stadium received the name of Hermann Göring, one of the creators of the III Reich. In 1935-1939 all stands were expanded with new sections, partly covered and equipped with additional facilities underneath. West stand was transformed into a true main grandstand, with its own entrance and large roof. A clock tower was built on the opposite side.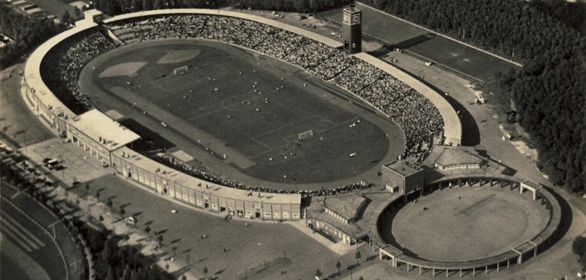 The final outcome of WWII stopped German plans as Wrocław was reclaimed by Poland. Following post-war repairs the stadium was reopened with a new name, honouring Red Army general Karol Świerczewski. It was under municipal government since then.
In 1970 the municipality transferred the stadium to local AWF (Physical Education University) and saw new investment coming. The stadium received immense 80-meter floodlight masts in 1978, together giving the lighting strain of 2,800 lux, Europe's strongest at the time. A year later the stadium received under-soil heating, one of the first of its kind globally.
Things turned worse in late 1980s, though, as the heating stopped working along with overall deterioration of the stadium's state. As the university could no longer bear the stadium as Poland went through regime shift, the stadium was becoming nearly defunct by 2000s, hosting games of football team Śląsk (on some occasions only) and speedway side WTS.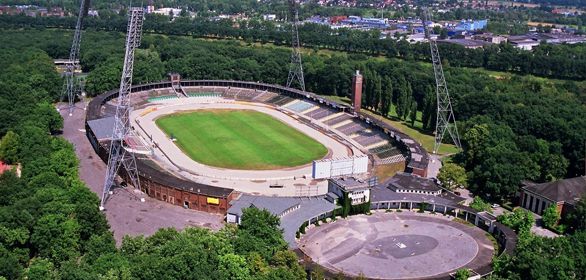 The city took reclaimed Stadion Olimpijski in 2006, beginning further investments to keep it alive. The stadium lost most of its capacity (officially at 50,000 for a long time). Though the current official size stands at 35,000, actual potential is at just over half the number with some stands being closed off. Since 2010 there are no more football games, because the motorcycle speedway track was reshaped, interfering with football pitch size. A long story of international games has thus ended at 19 national team games (5 of Nazi Germany and 14 of Poland). Currently the speedway team remains its sole tenant.
By 2016 the stadium will undergo a complete revamp, although the 1928 and 1939 parts are to be retained for their historical value. All sections around the track's curves are to be transformed into green areas, while stands along the track will be all-seated (at 11,000 capacity) and covered. The stadium is to hold large events during the 2017 World Games organized by Wrocław.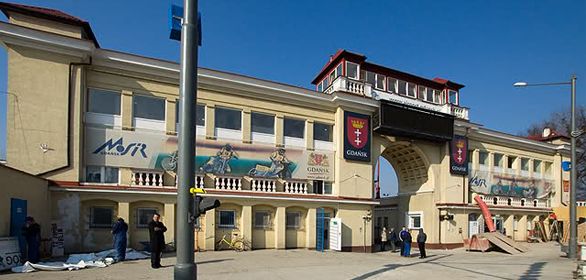 Most centrally located stadium in Gdansk was built on the site of former fortifications along the Opływ Motławy waterfront. Opening in 1925 means it was commissioned by Germans as part of the Free City of Danzig. Thus the initial name was Kampfbahn Niederstadt.
Used for football and athletics, among other, it was equipped with wooden benches set atop sloped land with only one wooden grandstand. This changed in 1950s, when – under Polish government – new land embankments were created, presumably from Gdansk post-war rubble. With concrete terracing the stadium was then larger and more impressive, but most of its grandeur was created by the northern Marathon Gate and its monumental colonnade. Though now deformed by various updates, the gate still exists today.
The following decade saw the stadium's transition to speedway-specific and this discipline remains its main use to date. No wonder the stadium was given patronage of Zbigniew Podlecki, Europe and World champion, who died in 2009. With step-by-step updates the stadium is changing in attempt to keep its standard up-to-date.
The story behind Katowice's less known club has been connected to the city's south-west areas since 1925, when the club formed by miners from Wujek Coal Mine formed it. Current stadium was opened in 1974 after a series of moves by Rozwój.
It has single-tiered land embankments around the field. Should they be fully used, the stadium would have a very significant capacity, but low demand and limited funding allowed to open only 8 sections, offering 2,400 seats.
There are three training pitch next to the stadium.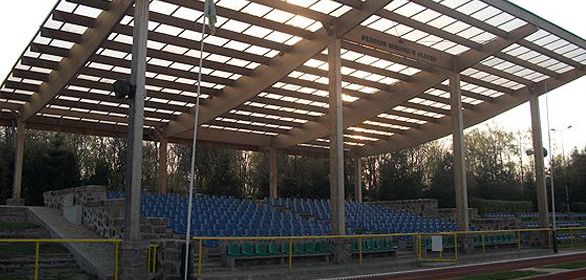 The municipal stadium Olecko was built in 1930 as part of a larger recreational complex along the bank of Olecko Wielkie lake. Official sources claim the stadium and its secondary infrastructure were used as a training centre by German Olympians ahead of the 1936 Berlin Olympics (Olecko was then under German authority).
With one sloped grass-terrace in the west, the stadium was open towards the lake and surrounding park. The rare three-step terrace remains to date and wasn't changed until 2010, when seats were installed over parts of it. Central section, covered in stone, went through more change with a vast wooden roof topping it.