Sochi: Olympic countdown began, 99 days to go
source: StadiumDB.com; author: michał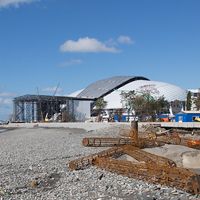 The opening ceremony is now just days away and despite most of the complex being prepared for Sochi's biggest ever event, the main stadium is still under construction.
Fisht Olympic Stadium will be opened on February 7, 2014. This is when Winter Olympics begin in Sochi, exactly 99 days from now. Theoretically the stadium should be operational already, but construction work is still under way.
All of the main structure is done, but external cover of the roof is still subject to work, just like infrastructure and installations inside the stadium, beneath stands already covered with blue seats.
There's no football field or even room for one as a huge hole covers the central part of the stadium. Large platform is now being mounted over the hole. It's necessary to hold artists during opening and closing ceremonies, each to be attended by some 40,000 people.
All of the temporary roof structure over the future field is in place. Its installation transformed the open-air stadium into an indoor arena and the black steel trusses (contrary to white steel used for permanent structures) are to be removed as the tournament ends.
Worth noting, company running the project (Olimpstroi) hasn't released any photos of the delayed stadium construction since August and removed the webcam presenting stadium progress.