Sheffield: Don Valley Stadium demolition began
source: BBC.co.uk; author: michał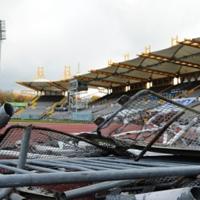 England's second largest athletic stadium is no more. From day one heavy machinery is on site and within the next six months all of the building will be removed.
As we informed you earlier, November 21 marked the beginning of demolition process, awarded to Demex company. Now workers have time until June 2014 to clear the site of Don Valley Stadium.
From the first hours heavy machinery has been involved in the demolition, leaving many enthusiasts of the stadium disappointed. Almost 6,000 signatures were collected against the move, but Sheffield City Council refused to give campaigners more time to find a business plan for the stadium, which became a major burden to the city as no anchor tenant provided revenues since Rotherham United moved out last year.
The stadium was built for the 1991 Universiade in Sheffield at the price of £29 million.