San Francisco: Levi's Stadium to be opened with MLS game
source: SoccerAmerica.com; author: michał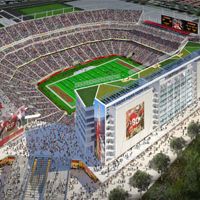 In an unexpected move San Jose Earthquakes were announced as first users of the $1.2 billion Levi's Stadium, future home of NFL team 49ers. Earthquakes are to clash with Seattle Sounders in an exhibition game in mid-2014.
San Jose Earthquakes were hoping to inaugurate their new stadium in 2014, but had to postpone the event until 2015 as ground works proved challenging. Concrete bunkers with munitions were found on site and water table caused more delays.
Still, Earthquakes are opening a new stadium in 2014, only not their own. The 68,500-capacity Levi's Stadium in Santa Clara is to see its first game not in NFL, but MLS. San Jose Earthquakes are to host an exhibition game against Seattle Sounders on August 2, 2014.
"We are proud to open Levi's Stadium against Sounders FC," said Earthquakes president Dave Kaval in a statement.
"Santa Clara and the 49ers are great partners and they are constructing a world-class venue that all the Bay Area can be proud of.
"We have seen great crowds around MLS over the past five years, especially in Seattle, but we are confident that this match will once again demonstrate that the Bay Area has the most passionate soccer fans in the country."