Romania: Modern stadium not enough, Steaua's trouble in Champions League
source: ziare.com; author: michał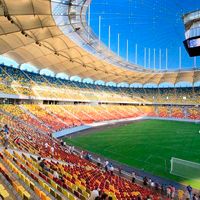 While many countries have no representation in the Champions League, some Romanians are fed up with Steaua's underachievement this season. It's possible that last home game of the group phase will see only 40% of seats sold.
Steaua's results in this year's Champions League are well below expectations despite tough group rivals. Two points and two goals scored with 9 lost after four games make Romanian champions' chances of going through even to the Europa League very slim.
As a result, only 11,000 tickets were so far sold for the last home game against Schalke 04, scheduled for Nov 26.
Officials fear that with winter behind the corner the total attendance for Champions League farewell may be as low as 20,000. Even though the new national stadium provides a retractable roof, many people may be discouraged to even go there if weather breaks.
Already before last games capacity of the stadium was reduced to just 35,000 due to insufficient demand, but going under 50% of the overall capacity may mean that Steaua not only wouldn't earn a single penny on their CL game, they may possibly lose some €50,000 on hosting Schalke at home.