Poland: Wroclaw stadium out of the red in 2017?
source: Gazeta.pl; author: michał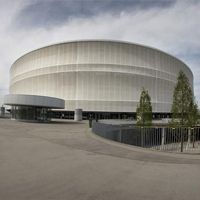 Unlike in its first years, the municipal stadium in Wrocław hosted no large events other than football in 2013. What's more, domestic attendances fell drastically, reaching all-time low. Still the stadium authority aims at generating profits in 2017.
Stadion Wrocław, one of four Polish stadiums built for Euro 2012, went through a real transition in 2013, focusing on football games and organising no more full-venue events on its own.
Operating company Wrocław 2012 saw losses generated by each large event in previous years, whether it was the Monster Jam, concerts by George Michael and Queen or friendly football tournament Polish Masters.
With criticism over financial outcome, the company decided to only lease the stadium to external organisers, resulting in... zero large events. Although it may sound worryingly, Wrocław 2012 are sure it was the right move and express hope the situation will improve in 2014.
"After several attempts event organisers see we're firm in our policy and they're becoming more flexible. They know that Lower Silesia is a rich region with good connection to Upper Silesia, close to Czech Republic and Germany. […] We're now talking with four partners about large concerts next year", says Robert Pietryszyn, head of Wrocław 2012.
With the new policy football is the only discipline filling Stadion Wrocław. But "filling" isn't the right word here. Last Friday's Poland-Slovakia friendly may have been sold out, but it was one of just three games this year with over 90% seats filled.
For domestic league games of Śląsk Wrocław the figures are much worse, having plummeted to all-time low of just 5,156 people for the Podbeskidzie fixture recently. Regular crowds are higher, but not high enough to allow the stadium to earn anything. Contract between Wrocław 2012 and Śląsk Wrocław foresees a split in revenues only at games with over 20,000 people inside. This year this happened only twice.
The fall may be disturbing, but is also connected to Śląsk losing its major shareholder and becoming a municipal club. With situation more stable now operator of Stadion Wrocław hopes to work on new policy to draw crowds along with the football tenant.
No concerts, poor home attendances for football – this doesn't sound well. But there's another side to Wrocław stadium's business. This year all remaining construction works were finally delivered and corporate clients now occupy 4,500 sqm of the ground's generous office space.
A massive number of 300 business events are planned until the end of this year and the stadium is already booked for more until May next year.
Together with a car rental, go-kart track and the search of naming rights partner, Wrocław 2012 are hopeful the stadium is still on the right track to balance all expenses by 2017.