New stadiums: Green Bay, Charlotte, New Orleans and Detroit
source: StadiumDB.com; author: StadiumDB.com team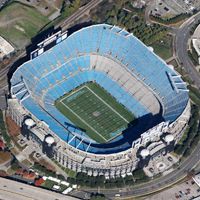 They're huge and that's basically all they have in common apart from being NFL stadiums able to hold regular football (soccer) games. Four impressive stadiums from the US join our database today, each with a different feel to it.

In 1955 the City Stadium's state was well below expectations, prompting the club to act. Having reached an agreement with the municipality, decision was made to build a new stadium in 1956. Budget was split between Green Bay Packers and the city of Green Bay, seeing the sunken bowl of New City Stadium inaugurated in September 1957.
In 1961, when Packers were on a high, ticket demand led to an increase in capacity, seeing the stadium get bleachers for extra 6,519 people, reaching 38,669. Following years saw three more expansions that saw all sides of the stadium have steel terraces erected over the initial bowl.
In the meantime New City Stadium changed its name to Lambeau Field in 1965 after Curly Lambeau passing. He was the founder, player and first coach of Packers, earning the right to become the ground's first and so far only patron.
In 1985 first suites were created, mostly in the eastern part. Altogether there were 72 suites at that time, increasing capacity to 56,926. Over the next decade suites were being added until they surrounded most of the bowl in 1995, peaking at 198.
In 2000 plans to renovate the stadium and further expand it were announced. A vast office-commercial building was created on the east side with its famous Atrium and Curly's pub, while capacity grew to 73,142. Altogether that revamp cost $295 million.
In August 2011 further changes were announced, most notably including new tiers on the south side of Lambeau Field that allowed the stadium to become the very largest in Wisconsin and one of NFL's largest at 80,750. Modern giant screen was also added and new sound system.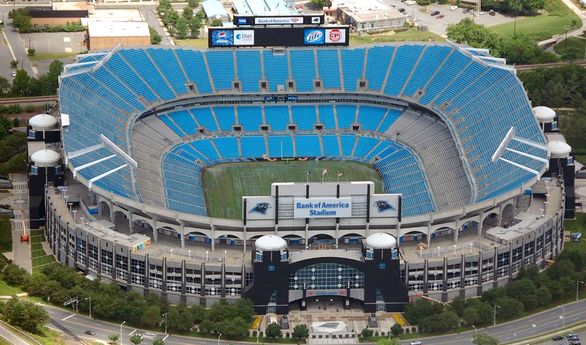 In April 1994 construction works began in Charlotte. The aim was clear: delivering a stadium worthy of hosting NFL games in the city that had no franchise before. Design was carried out by leaders in sports grounds, HOK Sport (later Populous).
As part of the financing scheme fans were able to buy individual licenses for their future seats and the huge interest in acquiring licenses became one of the factors for Carolina Panthers to be accepted as NFL franchise.
During early works the stadium was named Carolinas Stadium, a name still in use for events that require no commercial branding, like for FIFA football games. Already before opening Ericsson bought naming rights for the stadium for a decade, which was later followed by an even longer deal with Bank of America, who are to be present in the stadium's name until 2014.
The two massive tiers and 158 skyboxes between them were initially designed to hold 72,685 people, but were later slightly rethought to fit in 73,778 seats.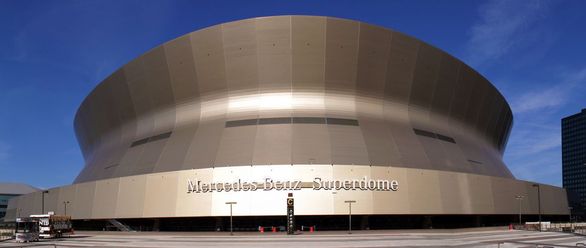 In 1966 American businessman David Dixon Ahmed at bringing NFL to New Orleans and Saw a new downtown stadium as one of the most important incentives to offer. He thus showed the Louisiana governor Astrodome in Houston and convinced authorities that a stadium like that might be a great solution for New Orleans.
This one was to dwarf the Astrodome, not only being able to hold various large-scale events, but also being the single largest permanent dome worldwide. Detailed design was created in 1967 by local architects Curtis and Davis. The dome was to span over 210 meters and reach 83 meters at its peak.
Groundbreaking took place in August 1971 and construction took four years. In the process it proved to be much more of a burden to have a dome that large than initially expected as the budget grew three times.
Over the years the stadium didn't just house most important games of New Orleans Saints, but also saw wrestling, basketball, boxing, concerts and even a movie premiere. The most unexpected use came in 2005, when some 30,000 citizens used the stadium as shelter during the Katrina hurricane.
The catastrophe saw stadium's roof seriously damaged and resulted in Superdome's closure. After debates whether to renovate it or demolish altogether to make way for a new stadium it was decided that Superdome will receive a makeover.
First phase was carried out in 2008 and saw the stadium's structure regenerated and improved. Then in 2009-2010 the exterior received an elegant aluminum cladding that increased the aesthetics. Infrastructure upgrades came in 2011, but the stadium retained its three tiers with amazing seating layout and roof structure.
As works were done, the stadium received its first ever naming rights deal in 2011, with Mercedes-Benz.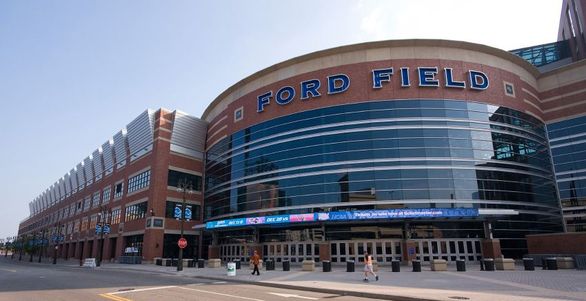 In 1996 Detroit Lions announced the will to build a brand new stadium in downtown Detroit, one that would be permanently domed, but not using the air-support technology that was already seen as problematic.
The stadium designed by a consortium of renowned architecture practices was fitted into the dense mid-rise urban area and could perhaps even be missed by some passersby if it wasn't for its vast white roof sloping over the brick facades.
The structure supported by huge trusses hides 65,000 seats (expandable to 70,000 if needed), of which most seats are located on two tiers. Only the main grandstand breaks the layout by holding all of the corporate skyboxes above just one tier of regular seating. Upon opening this was said to be the best seating layout throughout the NFL.
Since the opening in 2002 it hasn't only hosted NFL games of Lions, but also various other sporting events like wrestling or basketball, the latter reaching peak capacity at 78,000. Concerts and large entertainment events are also being held here and with surrounding buildings accommodating more uses Ford Field also became a convention hub.
The naming rights were acquired by Ford for two decades, while two other car giants from Detroit can be spotted nearby – Chrysler with a freeway named after the company just meters east of the stadium and GM with its main offices along the same street.