New stadium: Basrah International Stadium
source: StadiumDB.com; author: StadiumDB.com team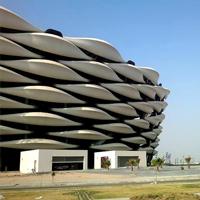 International football may not be back for good to Iraq, but international standards are already being met. First of the impressive new stadiums is open in Basra, the city nicknamed financial capital of Iraq. Not without problems, but it's ready for use.
The construction of Basra's largest sports complex in the city's southern outskirts began in mid-July 2009. It was supposed to comprise two stadiums (one of Olympic size at 80,000, the other for 20,000 people), four training pitches, a series of buildings including four hotels, indoor sports facilities, hospital and rescue services hq. During the planning phase capacities of the two largest venues were downscaled to 65,000 and 20,000, respectively.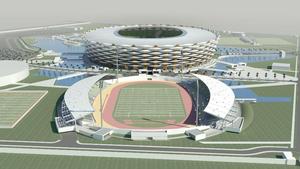 The football facilities were surrounded by a complex of artificial ponds that together for the shape of Iraq's map when viewed from above. At the heart stands the main stadium, designed by 360 Architecture. Along the designers' vision the stadium was covered with a total of 45,000 sqm of synthetic cladding formed into large panels interleaving large steel columns.
The external wrap and roof sheets are supported by a massive structure of 19,000 tons of steel. Under that shell are the concrete stands divided into two tiers of seats, topped by two giant screens.

Construction of the complex was due to finish within 32 months, but was delayed severely, mainly due to design changes over the course of works. First scheduled for opening in early 2012, later postponed to early 2013, the opening finally took place on October 12, 2013 when the stadium wasn't fully completed yet.
The continuing delays had cost the stadium and Basra as a city hosting of the Gulf Cup three times already, in 2012, 2013 and 2014. Each of the events was relocated with fears of insufficient infrastructure.

The opening event, attended by sell-out crowd of 65,000, was subject to serious controversy. First FIFA objected to Egyptian and Syrian clubs participating in the friendly tournament that was held either way. Then a power shortage caused major blackout while the stadium had no backup generator.
And as if that wasn't enough, photos of numerous destroyed seats were uploaded by attendees, claiming the seats were breaking extremely easily, even possibly contributing to the death of a young man, who fell onto the seats and suffered from severe bleeding, reportedly dying on site.