New design: Luzhniki 2018
source: StadiumDB.com; author: StadiumDB.com team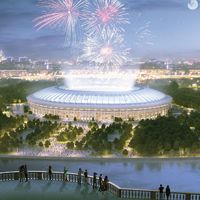 Russia's largest stadium will remain the leader domestically despite FIFA agreeing to downsize the capacity by 9,000 seats. This measure allowed to cut costs and fit new stands inside the historical bowl. Work begins now and is to end in 2017.
Yesterday saw the formal groundbreaking at Luzhniki, Russia's largest stadium and final game host for the 2018 World Cup. However, in reality dismantling of the 78,000 seats started earlier and now none is left in the stands. First concrete prefabs are also being removed inside the stadium now.
November saw the official tender launched and in early December we should find out who will rebuild the stadium. The task may seem easy as the roof and façades are already done, but that's the challenge. With all of the external structure to be left intact, contractors won't be able to use tower cranes, only mobile ones. And the work inside is to include all of the stands rebuilt, because only foundations and some base elements are to be left from the current ones.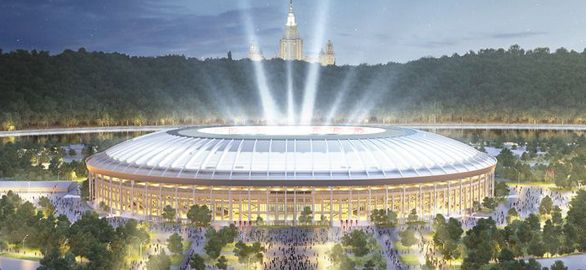 New stands will have a completely different layout than current ones. Instead of one large tier two smaller ones will be created with a narrow corporate balcony between them. No athletic track will be retained, the stadium will become football-only.
Capacity will grow from 78,000 to 81,000 as the stands will also grow taller atop five floors of usable space, but that number is still a decrease compared to original plans to have 90,000 people inside. In the currently planned number 63,956 people will be seated on regular seats. VIP spectators will take 1,700 seats, VVIP another 300, corporate clients - 6,480, the press – 6,360 (to fall after the 2018 tournament), while disabled fans will have 292 allocations.
To protect the stands moved closer to the field, roof structure will be expanded. Not only will it gain new translucent segments, but also a massive giant screen will be installed throughout the circular truss, showing images both inside and outside of the truss and assuring everyone will have unobstructed view of the footage.
Initially estimated at RUB 25 billion, the current tender worth is set at RUB 20 billion. This amount will be paid to the general contractor who will be required to deliver all works within 42 months of entrance to the site. This means the redeveloped national stadium of Russia will be ready no sooner than in the 2nd half of 2017.