Manchester: Ideas to improve (?) Old Trafford's matchday atmosphere
source: Wired.co.uk; author: michał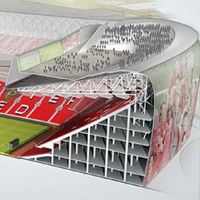 Wired magazine asked famous Populous architects to give their best ideas of atmosphere enhancement at Old Trafford. The outcome is a set of sometimes shocking measures. But does this actually improve the atmosphere?
Before Manchester United fans seeing this for the first time get excited, we need to tell you this is not an official concept, the club has no affiliation with the vision. Then again, the experiment done for Wired magazine was prompted by MU's recent efforts to improve the quiet atmosphere at Old Trafford.
Just as a reminder, in April the club was reported to hire a sound engineer to analyse how the stadium's noise-creating potential may be used better. Then more recently the club also listened to its fans and launched a trial singing section at the stadium, additionally expressing the will to launch a standing section trials when there is a legal chance.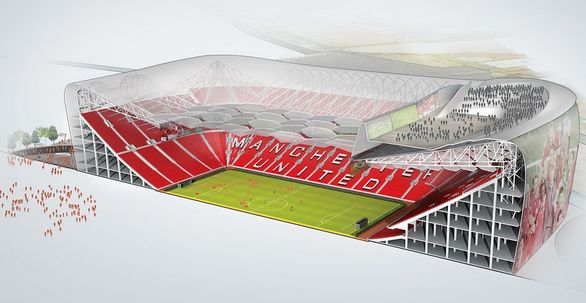 Raise the roof!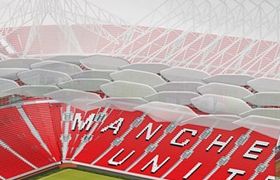 Both literally and metaphorically. Populous suggest leaving the current steel structure, but removing the ceiling sheets and placing new cover over the steel frames instead of under them. The internal parts of the roof would see acoustic materials amplifying the sound with their angle, possible to steer in realtime. Such materials might also be placed over the entire football field, not allowing the noise to leave Old Trafford.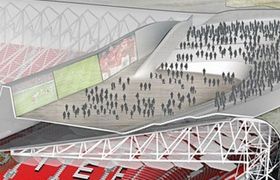 What becomes the new ceiling for people inside could also be someone else's floor. This Populous idea caused perhaps most comments as the architects suggested additional event space may be created atop the stadium. Most probably it couldn't be used throughout the game due to safety regulations, but pre- or post-match events might surely work well.
More traditional means
There are also ideas that have proven efficient all over the world in various cases. One is the idea of fanzone that sees excitement building up around the stadium instead of just inside. However, it's usually seen as a way of spending time more festively, not really enhancing the atmosphere.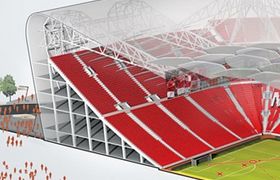 Then the entire external cladding of the stadium might be covered with LED lamps, allowing for the stadium to become an immense screen. Though it's been used already, here the scale would be perhaps most impressive.
Finally inside the stadium current Stretford End would be transformed into a giant single-tiered spion kop stand. According to the vision it might be able to seat even 20,000 people, which would make it the world's largest (Dortmund's Sudtribune has 25,000 capacity only with terracing, much lower when seated).
Innovative technologies
LED may sound familiar as a façade piece, but does it ring a bell when woven into the football field?! That's right, Populous suggests placing lamps within the grass to allow illuminations and animations being presented, mimicking those available on TV that show player line-ups, movement routes, etc.
Then there's the ultra-speed internet access. Populous fits its stadia with turbo Wi-Fi. "This is about using mobile devices to order a drink, and to get social interaction between those in the stadium and the remote audience", says Christpoher Lee, the Australian architect of Populous with some 30 stadiums in his portfolio.
There's even a suggestion of using crowd movement to produce energy through piezoelectrics (materials releasing energy when changing shape). "These piezoelectric rockers move less than half a millimetre. Each time someone steps on one, energy is captured." It is then used to heat seats.
StadiumDB.com comment: We appreciate that the experiment is entirely loose and though Christopher Lee assures "nothing we're talking about here is prohibitively expensive", we're not sure if it's about atmosphere enhancement altogether. In fact it might serve to show that architects don't fully understand expectations of stadium audiences.
The very reason for sound engineering and singing section's trial at Old Trafford is fans claiming they want better (louder, more vocal and 'electric') atmosphere. And this seems why Populous suggests creating the sound cloud over fans. Why make fans not interested in singing, then? It's quite obvious that once you give everyone ultra-fast web access and social networking apps and on top of that allow them to order food to their seats, they won't be singing, will they? So why spend money on a sound cloud, when you're interested in making fans consume more, not create a solid atmosphere?
And then there are the two lapses that we can only pray were done by Wired when writing the ideas down, not by anyone at Populous. First, calling the new Stretford End by the name "The Kop" is the best way to make enemies among both Manchester and Liverpool fanbases, which has already been noticed by many fans online. And then there's the second thing: example of Populous-designed stadium with large LED façade, which according to the article was opened in Kazakhstan. Except that it wasn't. It was in Kazan (Russia), not Kazakhstan. The kind of post-Borat mistake that makes no-one look well (and it's been repeated by Daily Mirror and others).