Dortmund: Congestion problem at south-west corner causes criticism
source: Ruhrnachrichten.de; author: michał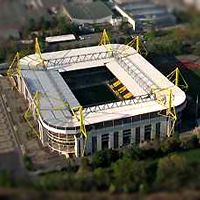 With new turnstiles installed in one corner of Signal Iduna Park in 2013, now appeals for more entrances come from another part of the stadium. Some fans claim it's a disaster waiting to happen, according to Ruhrnachrichten.de.
Recent games saw increased outcry about the overcrowding at south-west corner entries to the Signal Iduna Park. As weather is getting worse, many fans come no sooner than 30 minutes before the game, experiencing what is described as very serious congestion.
Asked by Ruhr Nachrichten through social networks, many fans give emotional and almost catastrophic testimonies, calling the situation a real threat to people's health and lives.
Borussia admit the problem is real, but argue its scale isn't as serious as some see it. To address the issue BVB asked fans to come earlier for upcoming fixtures, is possible, and assured the stadium loudspeakers will be used to manage the crowd. From the beginning of the 2014/15 Bundesliga season more turnstiles are to be available in the south-west corner. It's not possible earlier as the alterations need to go through similar bureaucratic path as larger works.
Earlier this year Borussia installed new turnstiles in the north-west of their stadium. In total the club had spent €5 million this year on stadium improvements with next year's turnstile change estimated at further €1 million.