Poland: Works in Lublin reach milestone
source: StadiumDB.com; author: michał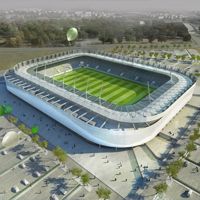 General contractor celebrated on site yesterday as the new stadium for Lublin sees all concrete works delivered on time. The very single project progressing so rapidly across Poland should be finished in less than a year, giving Lublin a representative football stadium.
It's not even a year under way and already all of the concrete prefabs are installed at the future 15,500-capacity football stadium for Lublin. The project is receiving nationwide praise for the pace of works by Budimex, putting other Polish projects to shame.
Yesterday the company hanged the traditional panicle over the bowl, using one of the last remaining tower cranes. All will be dismantled by early November, while mobile cranes will proceed to install steel beams of the roof.
This, together with seat installation, will constitute his, together with seat installation, will constitute the first of three working areas. Second one is the main football pitch (drainage to be installed this year, but further layers in early 2014), two training fields and access roads, now done in 95%.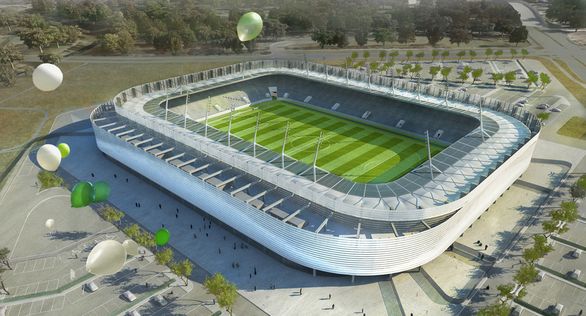 And finally, the third area is all of the space underneath stands, in two separate buildings. The one under western stand (four floors) will comprise club offices, skyboxes and hospitality zone along with all required sporting infrastructure, while eastern one will see commercial outlets on ground floor. These facilities will be worked on during the winter as heating is possible.
While the construction speed is praised, serious doubt is cast by some commentators over the sole point of such a stadium in Lublin. As a city with over 400,000 population it might need a representative venue, but local football is in tragic shape with largest club (Motor) attracting under 1,000 people per game in their current 3rd tier campaign.
Best attendance so far this season was 1,500 against regional derby rival Stal Stalowa Wola and position in relegation zone sees little chance for major improvement in the short term.
Some critics thus claim the stadium will be a heavy burden for municipal budget without a strong football tenant.