Poland: Uncertainty over Zabrze new stadium
source: Roosevelta81.pl / Sport.pl; author: michał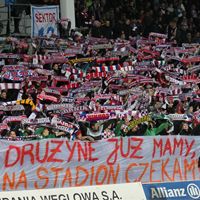 It's exactly 41 days before deadline for delivery of three new stands in Zabrze, accommodating over 24,000 people. But current Ekstraklasa leader Górnik may have to plan opening for late next year, because general contractor is on the brink of insolvency and works aren't progressing at all.
On Friday night Górnik Zabrze experienced a stunning comeback as the team won 3:2 against Śląsk Wrocław, scoring two goals in extra time. The ecstasy among fans was huge especially with Górnik now leading the pack of Polish top tier, but there were very few people able to witness it.
Current sell-out crowd is just 3,000, hardly enough for 14-time champions that used to draw over 15,000 regularly just a few seasons back.
It's now the second season that Górnik has only one stand, the old main building once decorated with Nazi swastika symbols and bearing Adolf Hitler's name. Little has changed since then, of course apart from Poles dropping the German heritage.
Three new stands are being built on all remaining sides of the pitch, altogether holding over 24,000 people. Initial deadline for delivery was set at April 30, 2013. Obviously general contractor failed to meet the requirement, partly because of difficult financial situation several months back.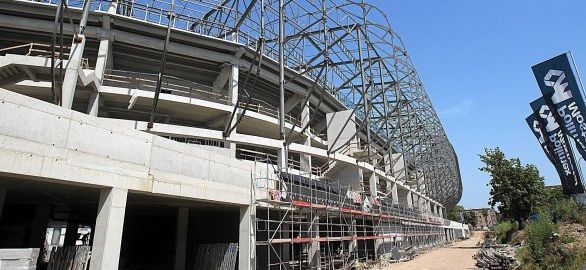 Now the problem is growing again as the number of workers on site melted to just a couple (literally) in recent days. Polimex-Mostostal is again suffering huge financial trouble, only managing to agree with its creditors this week and barely avoiding liquidation for the moment. Current delivery deadline for the 24,000 seats is November 30, but cannot be met – roof sheets are to be done, while none of the future seats has yet arrived on site.
Seeing all this and having very little information from public authorities overlooking the project, fans on Friday weren't singing for the first 10 minutes, occasionally breaking silence with chants demanding for the stadium to be finally delivered. They also presented a banner saying "We have the team, we're waiting for the stadium", referring to words of local officials that a modern stadium should follow decent football performances, not the other way round.
Meanwhile, the plot may get even thicker. In the unlikely event that Polimex-Mostostal collapses, all of the construction site would have to be inventoried, new contractor selected, move in and restart works. This would mean at least a couple months, possibly close to half a year before previous pace is reached.
Fans find it hard to believe the new stands could be ready by the end of their great 2013/14 season, but the question is whether they may be ready at all for the 2014/15 tournament. It's a question worth millions for Górnik. Millions that the club is now losing with one more unplanned season played at a stadium for just 3,000, despite being among the country's most popular clubs.