Nigeria: Another scandal at Abuja Stadium
source: Leadership.ng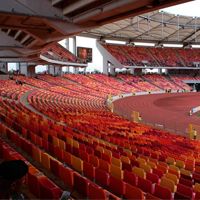 After wildlife took over a year ago with plants, weeds and animals, now it turns out the football pitch has no drainage. If it rains on Sunday, the pitch may get completely unfit to play. Even without rain the national team manager is displeased with state of the field.
It was just over a year ago that global media caught the story of Abuja Stadium, $360 million worth (semi)national stadium of Nigeria. Left unused and unmaintained, the 60,000-capacity ground was overtaken by weeds and wild animals, causing massive criticism.
Following the scandal it was decided to carry out necessary works and bring the national team back to Abuja, over 700km inland from Lagos. Pitch was relaid ahead of Sunday's crucial World Cup qualifier against Ethiopia.
However, following yesterday's training session at the stadium's new field, national side manager Stephen Keshi was outraged with the quality of work done. The new turf, worth $700,000 (€500,000) has no proper drainage system.
He expressed displeasure over the standard of the pitch, pointing out that it would be dangerous for the Eagles to play on. "From what I saw, it is a sandy pitch and it is so hard. It is very difficult for the players to play on, mostly the goalkeepers because it is sharp sand that was used on it.
"It is going to be very difficult to play on and it is not good for football players.
"If it rains, I think, the pitch will be water-logged; I am not sure this is the right approach. The House of Representatives Committee on Sports had during their oversight function at the Abuja stadium expressed dissatisfaction with quality of work done on the pitch by the contractor.
Godfrey Gaiya, who led the committee on the oversight function, described the money used for the re-grassing of the pitch as wasteful, pointing out contracting company, Julius Berger PLC did not provide drainage system to drain the water after the rain.