News: New Mersin stadium, constructions and design from Istanbul and Sivas
source: StadiumDB.com; author: StadiumDB.com team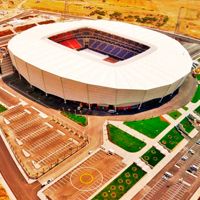 Newest stadium in Turkey hasn't even seen its first football game, but has enough grass to be added to StadiumDB.com. Or so we hope. As for two remaining grounds shown in renderings and construction photos, there's still some time before they get their grass.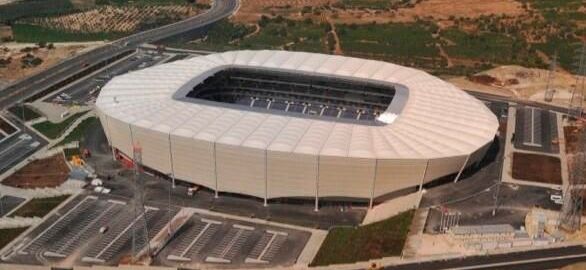 Construction of a new stadium in Mersin on Turkish southern coast became certain as the city was in 2011 selected to host the 2013 Mediterranean Games. Already in 2011 a vision of the 30,000-seat olympic stadium was drawn. Later it was subject to changes with capacity falling to 25,000 and though it was often called Olympic, it was to be a typical football stadium with no running track.
Construction estimated at some €100 million began in February 2012 and lasted just over one year. Already in spring 2013 the stadium was operational, though not ready for football. As it was to hold only opening and closing ceremonies of the Mediterranean Games it wasn't until September 2013 that a lawn was laid.

Eventual hosts at the stadium are Mersin İdman Yurdu, a team that suffered relegation to 2nd league upon their move from the city centre to this suburban stadium.
Seating layout consists of two seperate tiers divided with a strip of 54 skyboxes. Overall the stadium has almost 4,000 premium seats. Its external wrap and roof are made of light membrane based on steel frame together creating a dynamic angular form. Due to remote location of the stadium almost 1,300 parking spaces are provided in direct vicinity.

New stadium for Sivas was commissioned in 2012 as part of national project for new sports facilities. Just under 2km from the existing central stadium a brand new, football-specific ground is to be erected.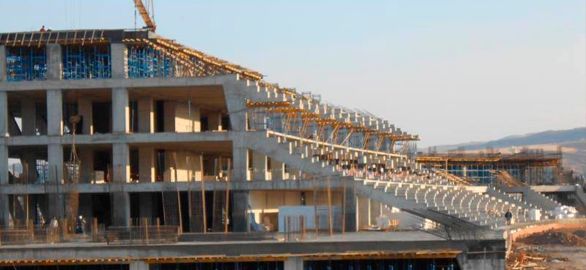 What makes it stand out from most stadiums of this size is the efficiency and sustainability. The outer shell is to utilise natural airflow as much as possible, limiting the need for ventilation systems. The stadium will also reuse water collected from rain, while also producing almost 800,000 Watts of energy per day. Despite all these features being used more and more commonly overall, it's still not a regular practice to see all of them used in a building of that size and role.
Ground works began in spring of 2013 with official groundbreaking in May. The venue should be operational already in 2014.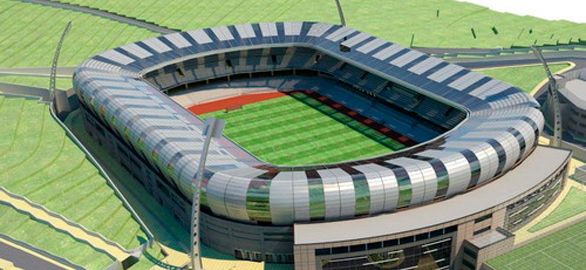 Bearing the name of its home district in northern Istanbul (with Ataturk Olympiat just 6km south), this stadium is being built for IBB, much disliked municipal club without traditional fanbase, created in 1990.
Though football-specific, it has end stands slightly rounded, resembling a multi-use stadium. Initially the building was to have only side stands covered, but eventually the entire external cladding was rethought and roof was extended to cover all 14,500 seats.
Construction began in 2013 and is due for completion in 2014.