New stadiums: Five from Serbia
source: StadiumDB.com; author: StadiumDB.com team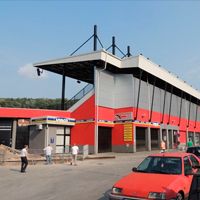 Names of towns and cities would tell little to some of you, so we're hoping their stories will do a better job. One was built in just 60 days, another has apartments behind each goal and, strangely enough, photos from some of them still show fans of Crvena Zvezda...

Construction of this stadium began in early 1946 and official opening took place on September 24, first anniversary of the city's WWII liberation (thus the name Sloboda – Freedom). However, first game ever was an unofficial friendly between local side Sloboda and Slavija Sarajevo back in June 1946.
First major reconstruction came in 1980, when large concrete stands were built, vastly standing to this day. In 2011 these stands were renovated and partly converted into all-seated areas. With seating along the pitch and standing on the large southern curve, the stadium now holds some 12,000 people.

The ground was built in 1976, in a record time of just 60 days. It's even more impressive than some other Eastern Block structures because it wasn't based on sloped land. Initial capacity of 25,000 also was a reason for pride, especially with current size of the stadium being under half of that historical figure.
Biggest changes came in 2012, when Napredak carried out an extensive renovation project, installing seats throughout the stadium and erecting four floodlight masts. That year the stadium hosted the domestic cup final.
Located in north-western Belgrade, this multi-use stadium serves mostly for home games of FK Zemun, football club baring the name of its home district.
The club was established in 1940s, but moved to this new stadium only in 1962. Thanks to its way up to Serbian top league in 1990, the ground went through a thorough revamp. Currently all sections but three (northern curve, occupied by local fanatics) are seated.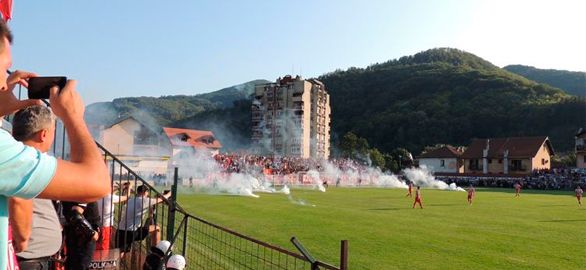 This compact stadium in central Serbian town of Ivanjica lies among very dense residential buildings, forcing its irregular shape and small size.
It used to be known for its intimidating atmosphere with stands just 2 meters from the pitch and attendances exceeding capacity when FK Javor first reached top division in 1990s.
Ever since last redevelopment in 2001 the stadium is an all-seater with three stands. Only open end is the north one, where club offices and changing rooms are located.

Eastern neighbourhood of Lion in Belgrade hosts one stadium, that of local team Hajduk. It's literally squeezed between two residential buildings, each standing right behind northern and southern goals. Two available sides have one small tubular stand with cover (west) and a significant concrete terrace (east) with 6 rows.
Altogether, with standing posts the stadium might hold up to 4,000 people, but its actual capacity (and demand) is much smaller.