London: Tottenham to build a stadium for NFL?
source: DailyMail.co.uk; author: michał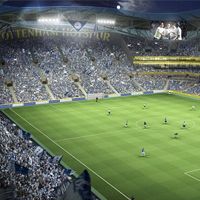 Contracting new designers despite having a project ready for construction now makes sense. Tottenham Hotspur is reported to want a bigger stadium, possibly shared with the future NFL franchise.
In early September it's been confirmed that Tottenham Hotspur signed Populous as new stadium architects. This step seemed somewhat controversial as KSS Architects already prepared the complete design of 'new White Hart Lane' a few years back.
That design was also the outcome of thorough fan consultation, thus making many fans anxious about potential changes to what they contributed to.
Currently Daily Mail and several other English media outlets suggest that Tottenham aren't only willing to 'update' their current stadium plans, but may be drawing up something completely new.
The club is said to be working on a groundshare with the future NFL franchise in London. Neither Tottenham, nor NFL spokespeople rule out a potential cooperation, though no details have been disclosed.
It's been clear for a few years now that NFL hopes to have an overseas franchise in London, though it was so far associated with Wembley rather than any Premier League ground. Losing a strong NFL tenant might be dramatic for Wembley, but gaining such a partner might make Tottenham plans more viable than ever.
Should the plan go ahead, it also means a great technical challenge. The club appointed top NFL stadium designers for the job, but if they are to squeeze an NFL ground at White Hart Lane, they've got a tough nut to crack.
Such ground would need to grow from 56,000 planned to 65,000 required by NFL, not mentioning potential pitch issues as the playing surface would have to rotate between regular football and American football surfaces.