USA: Further delays at New Earthquakes Stadium site
source: BoxScoreNews.com; author: michał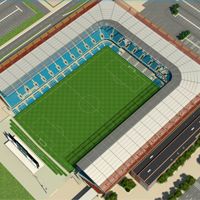 It' does resemble an earthquake in terms of logistics, because the new stadium in San Jose is already a year late. While foundations are yet to be laid, almost all premium seating for 2014 were sold. Now fans have to wait until 2015.
On Friday club officials announced that San Jose Earthquakes new stadium will not open its doors until early 2015. This comes after a similar announcement from July, stating that opening had been moved from early 2014 to second half of that year. This means the 18,000-seater is already a year late, while work on site is still at a very early stage.
First delays were caused by unusual findings under ground. While Earthquakes aimed at recycling the concrete found on their new stadium's construction site, the club could hardly expect that beneath the ground massive concrete vaults with munitions and other contents will be found.
Current decision to further postpone the opening is caused by trouble with high water table on site and problems with connection to city sewage system.
Despite the bad news fans should soon (finally) enjoy visual progress. Demolition and grading are now complete and the site utilities have been installed. Additionally, the footings are currently being placed. The next steps in the process will be the pouring of the foundations for both the stadium and team building, followed by the steel erection.