USA: Another death at an NFL stadium
source: NBCnews.com / Fox59.com; author: michał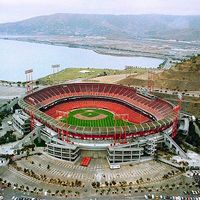 Looking at the sad statistic of fatal falls, American NFL seems to be among the most dangerous leagues in the world. In the past decade over a dozen people died and the last episode of this frightening story took place last weekend.
As San Francisco 49ers were opening their final season at Candlestick Park last weekend, a tragic accident took place just outside the stands. A fan in his thirties fell from an elevated ramp, hitting the pavement. Despite instant rescue efforts he was declared dead in the ambulance. Witness statements suggest he may have been intoxicated.
The accident follows a series of similar ones across the US in recent years. Overall sport stadiums took around 20 lives over the last decade, many of the accidents happened at NFL matches.
Just last month a baseball supporter died after falling in Atlanta, where a year ago a 20yo supporter also lost his life at a different stadium, the NFL Georgia Dome. Overall three people were killed last year after falls in Atlanta alone.
While the accident in San Francisco happened, a similar, but less dramatic one took place in Indianapolis. This time two men fell as the railing they leant on gave way. But this time the latitude was very small and only one of them was taken to hospital for observation, without serious injuries.