New stadiums: Belgrade, Gornji Milanovac and Guča
source: StadiumDB.com; author: StadiumDB.com team
None of them is huge, so what? One was built atop a shopping centre, while another is host to one of Europe's largest open air festival despite being frighteningly small. This trio from Serbia was a must for us!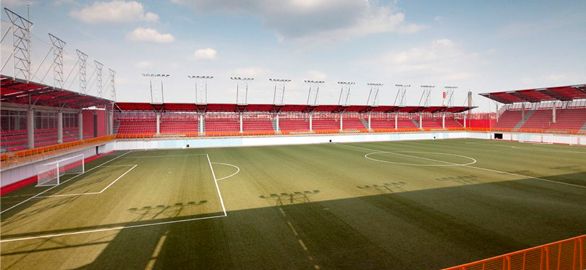 This stadium raised some eyebrows already in the renderings. The old and outdated Dejan Majić Stadium was to be demolished and replaced by a new one... placed atop a shopping centre.
The old 6,000-capacity stadium was demolished back in 2010 and in 2011 construction works began on the centre, proceeding swiftly due to prefab structure.
While in progress, the stadium's design changed significantly from early renderings. First, stands behind goals were added instead of only those along the pitch, earning the stadium some 1,500 seats and raising capacity to 5,000. However, not without a price, because the roof changed to one with supports obstructing the view of many viewers.
The shopping centre was opened in March 2013, but works on the stadium itself were still ongoing until July and finally the Jagodina opener on August 31 was approved, marking the opening of one of the world's most uniquely located stadiums.
Construction of this stadium started in late 2011, over two years since the first declarations by local side FK Metalac. Contrary to most stadia in Serbia at that time, this stadium was financed by the club (15%) and its main investor Metalac (85%). Both entities shared the €3 million cost, while Gornji Milanovac municipality provided land for the project just south from the previous stadium SD Takovo.
It was planned to hae only two stands with a total capacity of 4,000, but in the end also a very modest northern balcony was built, increasing the size to 4,600. Within current surroundings there is no possibility to expand the stadium behind end zones as the athletic track of SD Takovo is too near in the south, while public swimming pool constrains the site from the south.
After 10 months of construction the stadium was opened in September 2012 in a 2nd tier clash with regional rivals Mladost Lucani. Soon afterwards a friendly game between Metalac and Serbia B was played, marking the first use of floodlights.

It's one of the most famous stadiums in all of Serbia but not because of football. This is the site of all major concerts during the annual trumpet festival, commonly known simply as Guča, by the small town's name. One of the biggest open air festivals across Europe increases the town's population of under 3,000 by literally hundreds of thousands.
This place is considered to be the 'trumpet capital' and this can be seen even in historical football chronicles. In 1950s local football team Dragacevo was supported by fans with short and loud trumpet cheers and won games were followed by celebrations, again with trumpets setting the rhythm.
Along with the festival (dating back to 1960) the famous Partizan came to town, seeing perhaps the largest crowd ever to get inside the local stadium, estimated at over 10,000 people. Of course this number may be doubled for music concerts, but only one similar result was set back in 1962, when FK Dragacevo faced another Serbian superpower, Crvena Zvezda.
Today's stadium has an uncovered western terrace and a smaller covered terrace in the west. Behind the southern goal stands the main administration building with a concert stage incorporated.