USA: Players and coaches with microphones?
source: sportsbusinessdaily.com; author: michał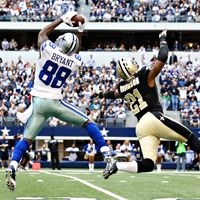 In an attempt to bring more fans to NFL games, the league authorities are planning to plant microphones onto players and coaches, allowing everyone to hear what they say. According to Sports Business Journal, it's a matter of a couple upcoming seasons.
It's not a completely new idea overall, as it's been done with success at NASCAR races. But so far the idea of microphones at NFL games hasn't been discussed as a solid plan. Currently, however, enhancing fan experience is described as crucial to keep high attendances and prevent people from watching games at home.
Can the voices of players and coaches be the next best thing? "NASCAR's never hesitated to let fans hear the conversation between the spotters and the drivers," Mark Lamping, president of the Jacksonville Jaguars said. "I would love for fans to get to know our players better, a lot better. They know them a little bit, but they don't get to see a lot of them when they are actually competing because they have pads and helmets on."
The NFL has talked in the past about miking players for in-game use, but the league's fan experience club working group now is working closely with the league on the concept.
"We don't need to take five years; it needs to be sooner rather than later," said Stephen Jones, the Dallas Cowboys chief operating officer who is on the eight-member working group.
Jones said his group is still looking at whether the audio from players should be used exclusively in-stadium, as an added benefit to fans who attend games, or shared with broadcasters. A related discussion would be whether the audio is made available broadly, such as over the stadium's public-address system, or if it would be made available on an individual basis — such as via an online app.