Poznan: Possible riot over blocking stairways?
source: GlosWielkopolski.pl / KKSLEch.com / StadiumDB.com; author: michał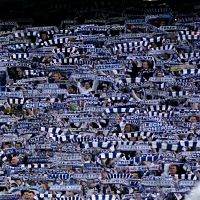 For the past two days police have been practicing interventions at Poznan's INEA Stadion. The aim is to clear stairways of one stand, should paramedics need to use them. Lech Poznan calls this aggressive stance overzealous, while fans see it as a provocation.
The last two days saw large scale police maneuvers inside INEA Stadion, the Poznan Euro 2012 venue. Not all over the place, but at the Second Stand, commonly known as Kocioł (the Cauldron), occupied by most vibrant supporters.
The operation is connected to recent decision of regional authorities to clear stairways for paramedics. Stairways on the three-tiered 9,000-capacity terrace have been occupied by fans ever since it opened in 2008. Fans see this as a way of integrating the crowd and enhancing atmosphere.
However, after Lech supporters came under criticism for their political banner recently, it is understood the new means are to discipline that section of INEA Stadion. With new legislation allowing regional authorities to influence stadium safety with a competence to even ban any event from happening, voivode Piotr Florek demanded that Lech deals with the issue immediately, during the Sunday game with Zawisza Bydgoszcz.
The policy earned a fair amount of criticism from Lech president Karol Klimczak. "We know that the voivode aims at fast access for paramedics, should anything happen. But during each game it's the safety officer responsible for safety of everyone. I see no new circumstances that would radically increase risks to anyone's health or life just because fans stand on stairs. Why? It's been that way all the time and we never had any problem with rescue team access to help a fan. We will do our best to minimalise the risk, though. There will be rescue teams in all entries to the stand, so that anyone feeling bad has them at hand", Klimczak assured with irony, speaking to Głos Wielkopolski.
According to Klimczak the risk is theoretical and similar problem shouldn't be raised, nor tackled with heavy-handed policing. "In times like these I think of almost 30,000 people having great fun at Signal Iduna Park's south stand. Not only are they standing throughout the game, they also are all over the place. We should lecture them, show the right path. I showed the voivode their photo recently. They can enjoy a game, while in Poznan stairways are suddenly a problem. Moreover, they're a giant one, if police intervention is considered. I wonder why was this issue raised now? We had been talking about other, more important problems in the past. I only hope that is a black scenario and will not happen", Klimczak said, appealing to fans to remain calm and not be provoked by any means that are expected to be introduced.
The preparations made Lech Poznań supporters reconsider their organized chanting on Sunday. But after an early information about possible boycott it was decided that most important fan groups will attend the game and act as usual.
However, according to current legislation in Poland, even without police intervention each supporter standing in the way of rescue teams (even if they're not there, but might be theoretically) may be subject to a large fine and a stadium ban, along with temporary arrest, if he refuses to leave the space after being asked to through loudspeakers or by a steward. With thousands of fans at the south stand being used to using stairs for standing without being bothered, opposition is feared and supporter groups join the club president in appealing to remain calm throughout the game.