Sophia: Groundbreaking ceremony at Levski's new stadium
source: Sportal.bg; author: michał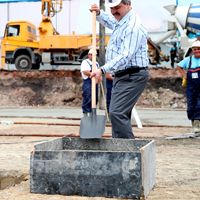 After 4 months of stagnation yesterday saw the symbolical groundbreaking at the future main grandstand of 'Gerena', the stadium of Levski Sophia. A time capsule was laid by club representatives before foundation concrete covers the site.
In March demolition crews cleaned up the site of old main stand of Stadion Georgi Asparuhov, a month after it was demolished by implosion. Since then only geodetic works were carried out at the site, leaving little progress to the eye.
Until yesterday, though. Arrival of concrete mixers and other heavy duty machinery sees the foundation works begin at Gerena's main grandstand.
Before work goes into full swing, Levski officials held a modest ceremony to celebrate the occasion. A time capsule with letters from club's board and supporters and various colours of Levski was laid by young player Antonio Vutov.
Construction of the new main grandstand is the first phase of complete reconstruction of the stadium. It's also the most important phase, as the 6,000-seat stand will accommodate nearly all infrastructure demanded by UEFA or FIFA, like player and administration facilities, VIP section and media zone.
The entire stadium should be done by 2017, first stand awaiting delivery in 2014.