Slovakia: National stadium demolition begins
source: StadiumDB.com; author: StadiumDB.com team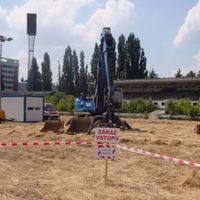 Opened in 1940, it hosted roughly 2,700 games, but not even one more will take place here. Today demolition works began at the run-down national stadium which has been taken over by wild vegetation in recent years.
Last game here was played in 2009. Among the fixtures held here at Tehelne pole some of the most prestigious games held in Slovakia and earlier Czechoslovakia. Crowds of over 50,000 and more recently 30,000 (after conversion to all-seater mode) are only the past now.
Initially demolition and construction of a new stadium were due in 2010, but no funding was secured as the government withdrew their support. Several other attempts to revive the idea of a representative stadium in Bratislava failed in recent years.
It wasn't until entrepreneur Ivan Kmotrik (owner of Slovan football club) decided to build a new stadium for his team and the national one at the same time. This time the public support of some €27 million is supposed to be a major contribution, while commercial partners will supply the remainder, receiving a hotel, shopping mall and offices in return.
The plan goes full swing today as demolition begins at the old and largely dilapidated stands of Tehelne pole stadium. The demolition works are to last until October, maybe November, while construction is to start somewhere between late 2013 and early 2014. After that 18-20 months will be required for the stadium to be ready.