Rotterdam: No new stadium for Feyenoord!
source: StadiumDB.com; author: michał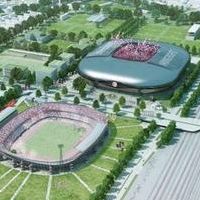 Council's opposition smashed the dreams of building the new 63,000-seater. Now Feyenoord writes about 'extreme dissappointment', while opponents of the project celebrate. Will this mean renovation of De Kuip is back on the table?
Today the Rotterdam city council was to vote whether to grant or deny Feyenoord financial guarantees for €165 million. This makes up for almost half of the planned new stadium, which would stand on the other side of the road from De Kuip.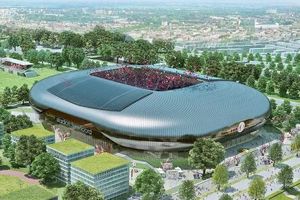 With opposition party Leefbaar announcing already yesterday that they would not support the guarantee, plans were at risk already before the vote. Not being able to gather majority in favor, Feyenoord lost the battle and the guarantee, crucial for securing funding. Eventually the case was not voted on, because this would be decisive. Meanwhile taking it off the vote today leaves a path for the future.
There is still little chance of a return to this debate in foreseeable future as the Verkenoord plot, which was to see the new stadium and a vast sports/leisure complex around has been dedicated to creating the complex alone, without the stadium. However, should Feyenoord have better support in the city council after upcoming 2014 elections, plans may still theoretically change.
While it may have seemed that Feyebnoord has authorities behind its plans a few weeks ago, it proved not enough. Even the support of national football association KNVB didn't make a difference and today KNVB writes of sadness and goes further – indicates the new stadium was important for national team games to be held in Rotterdam at all.
Also the club criticizes Rotterdam's council members. The club's statement today speaks of "extreme disappointment" and calls the decision a bitter pill to swallow. Feyenoord assures they will again think of a way to make the necessary leap in revenue and improve their financial position, but that will have to wait until they process today's defeat.

A way to make the leap? Renovating De Kuip sounds like a reasonable option to Leefbaar, who suggested it's a more sensible plan for times of economic crisis.
The campaigners who opted for staying at De Kuip may celebrate today and so can many fans who expressed their will to remain at the 75-year-old stadium. As revealed yesterday by RTV Rijnmond's survey, majority of citizens (60%) were against moving to the new stadium, while with Feyenoord supporters the number was even greater, at 82%. The survey was carried out on a group of 2,800 people.