New design: El Monumental
source: StadiumDB.com; author: StadiumDB.com team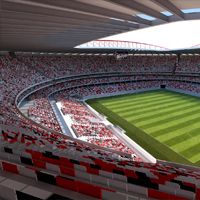 Retaining the oval shape of existing Monumental, while updating it to meet modern standards – that was the aim set by River Plate when they asked Brazilian Plarq Arqitetura to redesign the stadium.
Argentina's largest and one of the most famous stadiums is distinctive for its oval seating bowl, resembling those known from Brazil.
Is that why River Plate asked Brazilian architects to work on redevelopment plan? Of course not, but the outcome is still very Brazilian and resembles what is happening in that country to most iconic stadia – upper stands have their shape retained, while lower tiers are redesigned to bring fans closer to the pitch.

In this particular case the lowest tier encircles the pitch tightly, while the above business balcony was given the shape of rounded rectangle, managing to make the transition between lowest rectangular tier and upper round one almost natural.
Altogether two business tiers were planned to enable River Plate to vastly increase their matchday revenue within a similar capacity.

The design also envisages a first ever roof covering all spectators, based on support pillars in the four corners, where current stands have a modest amount of space left.
The outside of course sees new perforated cladding, while around the stadium indoor halls and office spaces were planned, followed by parking infrastructure and training facilities.