Germany: Braunschweig won't finish repairs in time? Roof is leaking
source: NDR.de; author: michał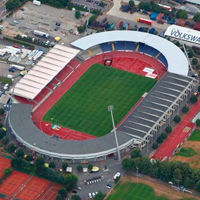 Having won promotion to the Bundesliga, Eintracht Braunschweig started redeveloping their VIP zone. However, as roof is leaking, the club may be forced to host their guests in a tent, according to NDR.de.
It's been 28 years of absence for Braunschweig's Eintracht, who are now preparing for their return to the Bundesliga. This seems to be a great opportunity to earn new fans and demand more for the best seats.
This is why Eintracht began remodelling their main grandstand's infrastructure with 1,200 new VIP premium seating.
During works the roof started leaking, though, causing insecurity among media representatives – will the club make it in time to repair their roof for August 11 game against Werder? Should this not be possible, Eintracht are reported to consider using a hospitality tent for their most prestigious guests.