Fandom: Mabel's final away game
source: StadiumDB.com / SWNS.com / StokeCityFC.co.uk; author: michał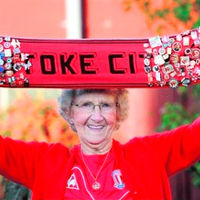 She only missed two games in 2008, when she suffered from a stroke. But her last away trip ended up with five stitches. At the age of 93 her body didn't manage to recover and Mabel Smith ended her journey following Stoke City last Thursday.
It seems everyone at Britannia Stadium and earlier at Victoria Ground knew her. Mabel Smith has been an ardent supporter of her club for over 6 decades, managing to raise children and 15 grand-kids.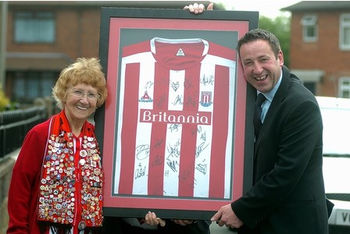 Since 1949 she missed only a few games, most recently in 2008, when she suffered from a stroke. But even then she watched one game at a giant screen with other fans. After recovery she returned to following 'The Potters' home and away. In that year she was voted fan no. 1 at Britannia Stadium.
Though in her 90s, she also travelled across Europe during Stoke's Europa League campaign, played in Switzerland, Croatia, Turkey, Ukraine, Israel and Spain. The very last away game she attended was the season closing in Southampton, in mid-May.
As usual she was in the away enclosure with her daughter and she made an euphoric jump up when Peter Crouch scored the equaliser in the 47th minute. That's when she fell down, having been pushed by people behind her.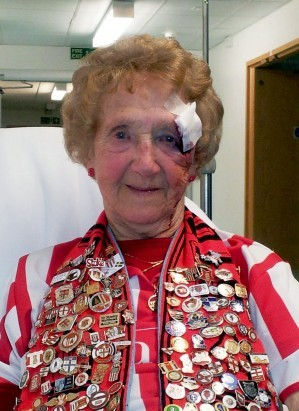 "I don't really know what happened, I think I jumped up when Crouch scored and suddenly the next thing I knew I was on the floor with my face pressed against the concrete" - she said to SWNS.com afterwards.
"The chap who fell on me apologised and said he was pushed at me from behind. Four fellas were on top of me.
"They helped me up and then the ambulance men arrived".
Her daughter later said she didn't expect help despite bleeding heavily from broken eyebrow. She was more eager to see the game and in good spirit despite being 93 at the time of accident. Mabel did assure everyone that "a little thing like this " won't stop her from attending Stoke City games home and away.
"If you stop me going to Stoke games you might as well put me in the box there and then." she also said.
Despite the great spirit, her body wasn't strong enough any more to withstand the injuries. She spent most recent weeks at hospital and lost the fight on Thursday, June 28. But having raised her children to share her devotion towards 'The Potters', she is sure to be remembered at Britannia Stadium.