Brazil: Stadium operators need to learn
source: Reuters.com; author: michał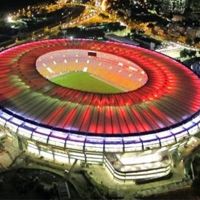 FIFA took its infrastructure after the Confederations Cup and domestic managers offered little in return. As a result, fans and journalists are outraged, while thousands of seats remain empty due to extremely high ticket prices.
The National Stadium in Brasilia received quite some praise during the recent Confederations Cup, but that tournament is gone now. Along with it the extensive press sections and concession stands were removed by FIFA, who brought them in the first place.
"They took away the desks, the chairs, the internet, everything, and we had to work with our equipment balanced on the roof of the substitutes' bench," said Rener Lopes, a commentator for local radio station Esporte Brasilia.
Not much was also offered to fans in the place of Coca-Cola's services of the Confed Cup, leaving fans inside with very poor service. And to be served they first need to get through completely clogged streets that have no matchday traffic organization, though there was a scheme implemented during the tournament to prevent jams.
With protests and riots still ongoing in the streets, some people consider the negligence of domestic games to only raise tensions, making Brazilians feel like secondary clients at the stadia they financed.
Many people cannot even get inside the stadiums because of the skyrocketing prices, which was clearly visible during Maracana's first post-renovation derby between Vasco and Fluminense last Sunday.
The game had over 30,000 seats empty, because each of them was priced at immense R$300 (€102 / $135) by the operator. Only seats behind goals, distributed by the clubs for a lower fee were almost sold out. In total, 46,000 people attended. The company declined to answer questions about its pricing and said the empty spaces were because police had asked them to reduce capacity for the derby.
The images from Vasco – Fluminense show-off can be seen below, leaving a disturbing image of the empty sections despite higher demand.