Brazil: Shocking set of new rules at Maracanã
source: StadiumDB.com; author: michał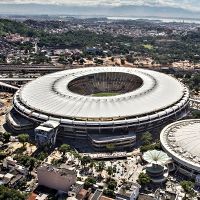 The controversial consortium operating Brazil's biggest stadium yesterday introduced a new set of rules at the ground. Many supporters and journalists are shocked as most of the 'Brazilian style' in supporting has been banned. But that's a problem only for those, who can afford new ticket prices.
Thursday saw new rules at Maracanã announced. This set of regulation needs to be accepted by clubs that are to hold their games here even temporarily, like Flamengo, Fluminense, Botafogo or Vasco da Gama.
The rules are called scandalous by many supporters of the so called torcidas, who claim colonization or europeanisation is about to happen. Large section banners (bandeiras), tall poles with flags on them (bamboos), drums and pyrotechnics have been banned completely. And if a supporter agrees to go inside without them, he is obliged to sit and keep his shirt on at all times (taking them off is a common habit among fans).
Interestingly, Consórcio Maracanã doesn't allow fans to bring their instruments, but has nothing against partner/sponsor-distributed gadgets, some of which make noise. Consortium president Joao Borba explained clearly that it's about changing the behaviour of the vocal supporters that is their goal. Operators of the stadium don't want any premium seat viewers to have their view obstructed by smoke, flags or standing people.
Which makes for another reason to criticize the future atmosphere at Joao Maracanã – there are well over 20,000 premium seats altogether. And what may frustrate tenant clubs most, the revenues of all of the business zone will be collected by Consórcio Maracanã (over 30,000 altogether), while clubs will only be allowed to take the income of 45,000 worst seats. At the same time the cheapest ticket for any non-club ticket has been announced at R$100 ($45 / €34), while clubs are allowed to provide cheaper fees in their sections.
This lack of symmetry in sharing revenues and new spectator regulations only add to the dissatisfaction with Maracanã's redevelopment. First, stadiums were said to be privately financed back in 2007. Then they weren't and price was inflating rapidly here in Rio de Janeiro. At the same time commercial facilities pushed back those for local community and finally a consortium of companies that already made huge earnings on planning/building the stadium were granted authority over it for the next 35 years.
Many columnists call for either disobeying the new rules or boycotting games. Declarations by supporters are similar – some of them say they won't give up on their way of supporting, while others promise not to buy any tickets if the scenario is kept in force.