USA: Worker killed at 49ers new stadium site
source: nbcbayarea.com; author: michał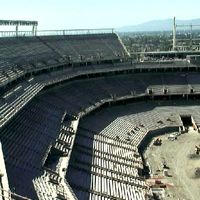 A construction worker at the new Levi's Stadium in Santa Clara died Tuesday morning, according to NBC Bay Area. He was found in an elevator shaft, construction has been halted.
A city spokesman said the person was found in the bottom of an elevator shaft when another worker took the elevator and inadvertently crushed the victim.
The victim was an employee of a subcontractor for Turner-Devcon, which is the stadium project's contractor.
It was unclear if the man fell down the shaft or was crushed by an elevator car.
All 1,000 workers were sent home and work has come to a halt until an investigation is complete, according to NBC Bay Area.
The stadium is expected to be open by fall 2014.