USA: Ohio Stadium to grow even more
source: ESPN.go.com; author: michał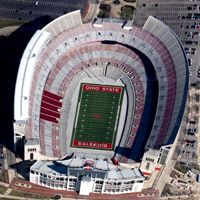 It can already hold over 102,000 people. But with works on Kyle Field giving that stadium advantage, now it's time for Ohio to step ahead. And so in 2014 their showcase venue will accommodate under 105,000.
Today Ohio Stadium is the fourth largest stadium in USA (not including temporary seating at Cowboys Stadium), but that may soon change as Kyle Field's redevelopment envisages 171 seats more already in 2015.
Not to allow the ground's position to deteriorate, Ohio State University announced they're willing to expand their largest stadium by 2,500 spots, allowing it to reach exactly 104,829 capacity. This will be enough to keep Kyle Field behind and also pass Neyland Stadium and become the country's third largest venue.
The expansion will begin and end in 2014. It's priced at $9 million and will be done in the southern stand, only one standing individually.
Ohio Stadium was last expanded in 2007, getting some 760 capacity.