Scotland: Whisky vats impeding Tynecastle revamp plans?
source: dailyrecord.co.uk; author: michał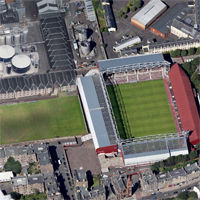 Hearts are in administration and could consider selling Tynecastle for redevelopment to stay afloat. However, the stadium is placed in 'hazard zone', which makes potential sale more difficult, according to Daily Record.
It's been over a week since Hearts are in administration over their arrears. The main creditor Ukio Bankas – who are owed £15million and also own the deeds to the Tynecastle stadium – could accept a bid to buy the ground to recoup some of the debt.
However, any transaction may be impeded by the hazardous neighbourhood of North British Distillery, where whisky vats are located. A Health and Safety Executive report has branded the stadium a "hazard zone" in case of potential explosion in the distillery, located in touching distance of the stadium.
This might practically prevent any residential development on site or make it much more expensive with extra safety precautions that might be demanded by City Council. The council doesn't have to, but should consult the HSE over any plans for the Tynecastle site.