Russia: Sochi Olympic Stadium ten times more expensive?
source: Wyborcza.pl / StadiumDB.com; author: michał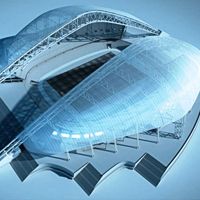 When the stadium was announced, it was thought to cost over $60 million. Though this seemed well underestimated, few would have thought that it's going to consume 10 times the amount projected. And according to Russian opposition the figures may still rise a lot.
Over 4 years back the concept of Fisht Olympic Stadium was presented for the first time. The iconic stadium with tall arches was to hold over 40,000 people and cost a very modest $63.5 million. Already then it seemed below the actual worth, but the amounts discussed now were hardly expected.
In 2012 the budget was estimated $390 million and the structure had a deadline to be ready that year. Half way into 2013 it's still hardly ready, though the steel dome is already standing as Sochi's latest landmark and crucial spot of the Olympic village. It's not the impressive venue being discussed, though, it's the price.
Currently the cost is thought to be $603 million, a skyrocketing increase since 2009. These are the official figures. But oppositionist Boris Nemtsov published a report claiming the actual figure behind Fisht stands at some $780 million. According to the dissident the entire Olympic Complex and Sochi municipal infrastructure may have been twice overpriced (by some $25 billion!) and stolen by corrupted organizers.