Poland: Another step towards new Tychy stadium
source: GKSTychy.info; author: michał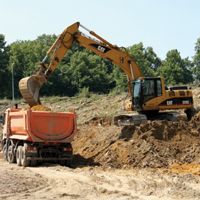 Demolition of old embankments supporting previous stands began in Tychy, where new 15,300-seat stadium is to be built by 2015. Then preparations to lay foundations should begin. GKSTychy.info report.
It's already been 6 months since the municipality of Tychy signed their stadium construction deal with Mostostal Warszawa, one of Poland's most prominent construction companies.
By April the old concrete stands and administration building of the city's previous stadium were destroyed, but artificial land slopes that formed basis of the seating bowl were left for geodetic analysis, while design was being altered by architects.
On Monday a new phase began with excavators removing the old embankments piece by piece. It's only a matter of days before the previous stadium will be no more and flat land will be prepared for first foundations to be laid.
The 15,300-seat stadium is expected to be ready in 2015 at a cost of almost PLN 130 million (€30m / $40m).