New stadiums: Culiacán, Ciudad Victoria
source: StadiumDB.com; author: StadiumDB.com team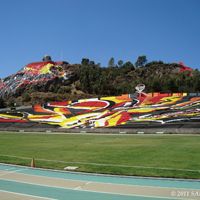 One of today's additions boasts one of the most impressive land arts among stadia worldwide and is unique. Another was built in 3 months (sort of) and the last one was the first ever to host Mexican domestic athletic championship…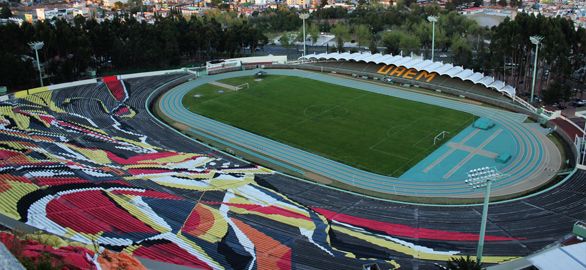 Though built back in 1964, this stadium never received the recognition it deserves for the unique layout, hardly comparable with any other worldwide.
Built on a circular blueprint, it doesn't have the pitch located centrally, but to the east. Meanwhile the massive western terrace spreads over the slope of local hills, accommodating almost 30,000 people. The eastern side consists of a very modest stand with seats and cover.
Almost all of the western terrace is covered with a huge paintwork, referred to as the 'arte atmosférico'. This immense painting by Leopoldo Flores covers some 20,000 sqm (or almost three football pitches) and uses traditional Mexican motives and colours. The land art spreads outside the stadium, onto the top of the hill, where president Adolfo López Mateos's monument is located.
Day-to-day use is provided by UAEM university athletes and local football club Potros. In 2011 the stadium hosted domestic universiade and received a facelift for that occasion. It's owned by UAEM and lays just 800 meters west of Estadio Nemesio Dies.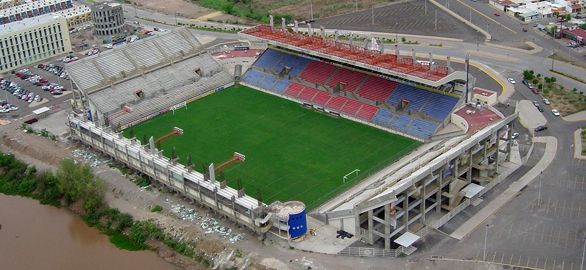 When opened back in 2003, this stadium on the bank of Humaya river had four independent stands with main one, west stand, providing corporate facilities and roof for spectators. Thanks to prefabricated elements being used, it was possible to open it just three months after groundbreaking.
It wouldn't be right to think it was complete back then, though. To this day east stand's roof and skyboxes aren't ready, while end stands were only half-way done in 2003, requiring extension after a few years.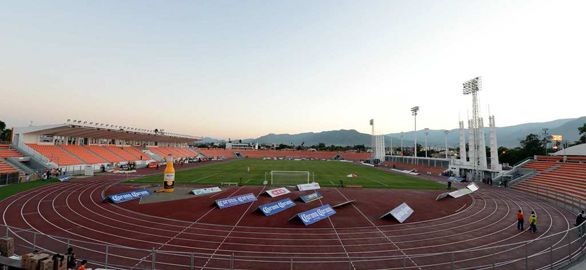 Ciudad Victoria, a city awakening after the Mexican Revolution, lacked proper stadiums in 1920s. It wasn't until Marte R. Gomez's reign as governor that the place finally got their own central sports complex. Together with the football/athletic stadium a new ballpark was opened, with more disciplines finding their place on the site.
Initially built as wooden structures, the centre was opened in 1939. In 1960s concrete facilities were erected, while the growth of local football side Correcaminos in 1987 resulted in temporary terraces expanding the stadium to 17,000. Eventually, in 2007, permanent seating for 18,000 was created.
Apart from amateur and professional football, the stadium played host to various events, like the swearing of governors or first ever National Athletics Championships in 1944.