Malaysia: Fan pushed over railings dies
source: Goal.com; author: michał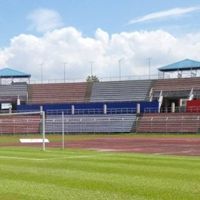 He fell 15 meters (50 feet) down during his team's semifinal of the FA Cup. After a week in hospital his body didn't recover and Roshdi Rosiman passed away. Goal.com report.
The sad accident occurred on May 25, when Darul Takzim was facing Terengganu in the first leg of FA Cup semifinal. 29-year-old Roshdi Rosiman was standing atop the stands of Stadium Larkin during the game.
After his team's 1:0 victory he bent over a railing to untie his flag – family claims he hadn't missed any game, being a really ardent fan. With fans rushing to the exit next to him, someone accidentally pushed him and Roshdi fell out of the stadium, plunging 15 meters down.
He was transported to hospital, where he spent the next week, remaining in coma all the time. Yesterday his kidneys started failing and family was informed to accompany him in the last moments. Roshdi passed away earlier today. His relatives don't blame anyone for the accident.