London: Will Chelsea move to Lillie Bridge?
source: DailyMail.co.uk; author: michał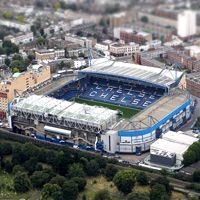 This comes rather unexpected after it seemed there is no hope for Chelsea to get a piece of the Earl's Court complex. Mail on Sunday suggests that the scheme is back on the table and with new conditions it may be an opportunity.
Lillie Bridge is some 7 hectares (17 acres) of railroad depots just 1km north of Stamford Bridge, belonging to Transport for London. Initially it was thought to be part of the massive 77-acre (31-hectare) Earl's Court redevelopment by Capital&Counties (CapCo), but now a different plan may be implemented.
Apparently, Transport for London have embarked on a feasibility study of the site, which is likely to be finished at the end of the year, and insist they will 'consider every possibility'. A bidding war between Chelsea owner Roman Abramovich and Capco for Lillie Bridge is possible according to Mail on Sunday.
Initial bid of Chelsea to be included in the 77-acre masterplan was submitted in 2010 and failed in the end in 2013. It then seemed there's no more chance of moving just by 1km. Will there be a chance now? The cost, estimated at some £200 million, should not be an issue if the club reach a binding agreement with Chelsea Pitch Owners, shareholders of the current stadium. Should they approve the move, a potential sale of the existing ground might generate a lot more income than required to buy the land.
Another question is whether any stadium of the desired size (60,000+) would actually fit on the plot. Its irregular shape and poor access might pose a threat to the entire idea. Even Stamford Bridge wouldn't fit there, despite holding just under 42,000.