Innovation: Mobile stadium with varying identity
source: ballast-nedam.nl; author: michał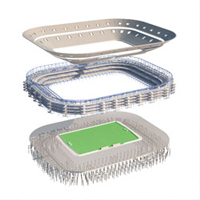 It's not the first vision of a transportable stadium, but first one that envisages the structure to change faces and fit in various surroundings. Will Ballast Nedam's idea be the first to get done?
Known for building stadia around Europe (Amsterdam ArenA, Stadium of Light, Estadio da Luz – to name a few), Dutch company Ballast Nedam has presented a new vision during Amsterdam estate exposition. The plan foresees a stadium being transportable to any location, depending on demand.
It's not the first time the subject of mobile stadiums is approached. In late May another Dutch company, IMD Raadgevende Ingenieurs showed their vision. Both companies try to be ahead of the market changes and more simply are driven by temporary structures being more and more prevalent for sports tournaments.
Most recent plans foresee Qatar donating some of their 2022 World Cup stadia to developing countries. Whether this vision would see single stands or entire venues transported, practical solutions need to be developed to make it happen.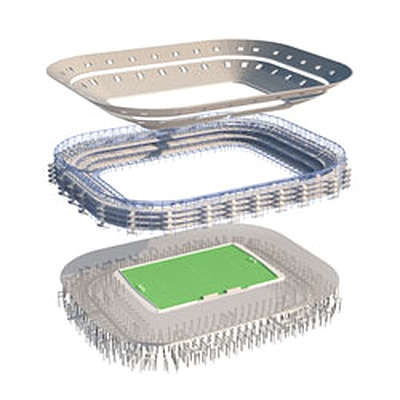 And while IMD proposes a complete stadium able to fit in as few as 38 containers, Ballast Nedam is more flexible.
First, their plan sees the stadium able to work as a permanent structure as well as temporary, making it possible to remain in one spot for the lifespan of a regular stadium (15-25 years without overhauls).
Second, Ballast Nedam wishes to provide only necessary the core to allow operation of the stadium, while various cladding or roof solutions may be used to make the stadium more individual once it reaches a new destination.
And third, the stadium would be module-based and could be divided into single stands transportable to other locations. The entire core would consist of three systems, all optimized for transport. First comes the basis on which the structure would stand, no matter the location. Then the steel supports and infrastructure required by game regulations. Finally, the stands themselves, installed onto the steel skeleton.