Innovation: Mobile stadium for 50,000 people?!
source: StadiumDB.com; author: michał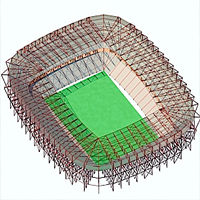 We've already seen the idea of a floating stadium, able to travel between port cities. Now it's time for a structure holding 50,000 that might fir into just 38 containers and be transported across countries or continents to host various events. It's expensive and cheap at the same time.
Countries holding great tournament often face the 'white elephant' problem, when iconic venues stand empty and generate loss for decades after the event. Without looking too far into history, Poland and Ukraine are now struggling to fill several Euro 2012 venues, South Africa and China face the same problem after their tournaments of 2010 and 2008.
There were some attempts to meet this challenge by creating large, but still sustainable arenas. This was expected in London ahead of the 2012 Olympic, but in the end the Olympic Stadium failed to give an answer. Not only was it as expensive, as the Beijing Olympic Stadium, but it also requires a massive investment to be viable in the long run.
Similar problem was faced by Austrians after Euro 2008. Their stadiums outside of Vienna were built with temporary upper tiers that were to be sold after the tournament or reused in other venues throughout the country. In reality no future use was found for the stands from Innsbruck, while in Klagenfurt it was actually cheaper to keep the stands than demount them.
German office Stadium Concept gave an idea of tackling the white elephant problem with a floating stadium. It would be able to travel around port cities and hold various events there without local authorities' excessive spending on permanent infrastructure that has no future.
Two years later the scheme remains on paper only, while another one arises. This time trying to provide a land-transportable stadium, resembling a circus. Dutch IMD Raadgevende Ingenieurs presented the plan of a temporary stadium meeting requirements for major tournaments and being mobile at the same time.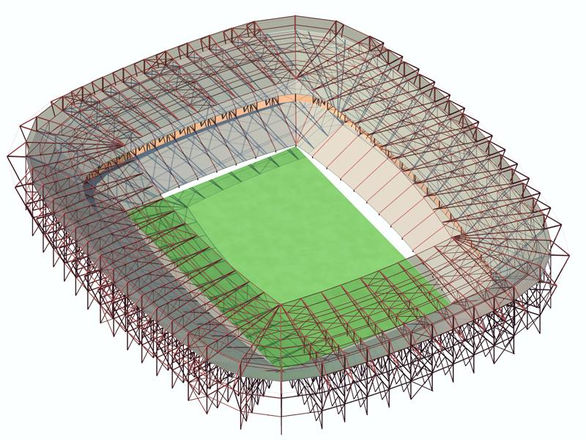 The sole point of temporary stands is nothing new – many companies offer either sale or lease of sections that may hold even several thousand people altogether. Big temporary venues are already in use, bot not like this one. Holding 50,000 people with a roof is more than anyone offered so far.
And, more importantly, IMD claim this could all be fit into 38 containers, meaning transport on 19 trucks. This makes mobility no challenge at all despite giant size. For comparison, the office claims a typical structure of this size would need 297 containers.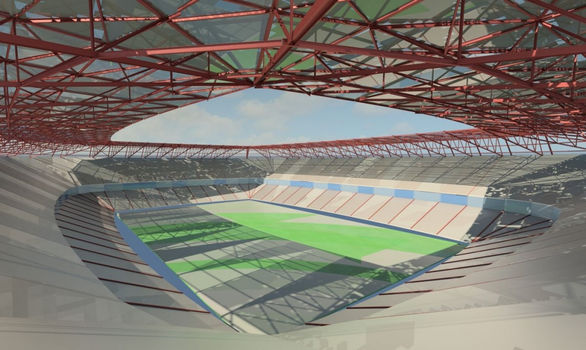 There are drawbacks, though. Transporting it from one place to another may be easy, but building and demounting it soon after in any place makes the cost of operating such a stadium even greater than having a permanent stadium in the typical 30-year lifespan.
That may be, say IMD, but having a mobile stadium makes it easier for any operator to catch contract for high-revenue events, which means more income than a single-location venue. Moreover, this may be the perfect solution for municipalities or governments trying to avoid the white elephant syndrome. Leasing the stadium for the duration of a large event and covering installation/deconstruction costs is, according to the office, just 22% of what permanent stadium would cost the authorities (estimated at €87 million instead of €400 million for a permanent 50,000-seater). And no worries about the stadium's future, as it would be somewhere else already...