Euro 2020: Berlin and Munich compete for German spot
source: Reuters.com; author: michał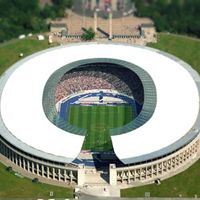 Just as expected, Berlin and Munich were given the right to compete for one spot Germany will be given during Euro 2020. By September domestic federation will select one of them and submit to UEFA.
There were three cities interested in holding Euro 2020 for Germany, but only two made the cut as Dortmund's Westfalenstadion fell short on capacity.
DFB, the German FA, wants any German bid to fight for both group games (50,000+) and the most prestigious package of two semifinals and the final (70,000+). Overall there are 13 host spots to apply for and Germany is understood to have high chances for one of them.
Now Berlin and Munich have almost three months to prove they deserve the spot and on Aug 30 the DFB will announce which city will be the one to be submitted to UEFA. The decision is interesting as UEFA itself allowed each federation to submit two stadia, which doesn't require DFB to eliminate any of the two.
Berlin's Olympiastadion is the largest all-seated stadium in Germany with under 75,000 capacity, while Allianz Arena is almost 70,000 at this point and is thought to still have room to expand slightly. Both stadiums meet all UEFA requirements, which was proven in each of them getting a Champions League final recently. Allianz Arena had its game in 2012, while Berlin will hold the 2015 final.