Poland: New agreement on Poznan stadium use
source: StadiumDB.com; author: michał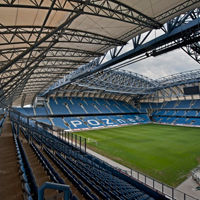 With attendances well below sell-out crowds, Lech Poznan went into the red over the Euro 2012 stadium lease. New conditions are more lax and give the club a chance to build on the new venue without overloading its budget.
Lech Poznan is the only club that took over managing of a Euro 2012 stadium in Poland. Following suit Lechia Gdansk proved incapable of running their PGE Arena Gdansk, eventually losing control to municipal company Arena Gdansk Operator.
But the Poznan-based club also came across trouble with their venue. Many facilities are still in need of investment, Lech also ran social consultation with the community to study demand and expectations and I implement changes in the venue.
Last, but not least, the club failed to make full use of the ground. Average turnouts of 21,200 people per game (increase from 15,100 last season) may be the best in Poland, but still under 50% of the available capacity, leaving the Municipal Stadium with some sections closed to save on matchday organising.
Altogether Lech was reported to be late with payments for electricity and rent they agreed to cover annually. This led to the club officially asking for talks with Poznan municipality over the ground lease conditions in February.
In mid-May the president's office agreed new conditions, easing the club's financial headache. Instead of annual rent of €750,000 ($1 million), the club will now pay €155,000 (or $200,000). Instead of 4,5% of matchday revenue, the club will now have to pay 4%, but only from Europa League or Champions League fixtures. Also, the club gets to keep all naming rights income, while it is understood Lech is in negotiations with two bidders.