Norway: Pyrotechnics still partially banned
source: vif-fotball.no; author: michał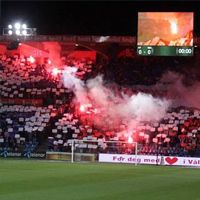 Despite declarations that flares will be allowed inside stands again if no incidents happen until the 5th round of Tippeligaen games, regulations still forbid fans from lighting them. But according to Vålerenga's website talks are ongoing.
Just as a reminder, in late April fans in Norway were hopeful the football association (NFF) will loosen restrictions imposed before the season, forbidding fans to light flares inside stands. They're still allowed to make pyroshows before the stands, but the goal is to find a safe solution also within the crowd.
The NFF declared restrictions may be lifted for a trial period if no incidents happen until (and including) the 5th weekend of this season. And despite fans committing to fulfill the expectation, just before 6th round began authorities informed strict rules are still in force.
Not all is lost, though. According to Vålerenga's official website, the club and its fans are committed to make flares legal again.
Just yesterday a meeting of working group including NFF, NTF (league authorities) and NSA (national supporters alliance) took place and within a week revised regulations are to be prepared for NFF board's approval. Evaluation at NFF is expected to last until May 16.