Norway: Pyrotechnics not (entirely) legal again
source: Aftenposten.no; author: michał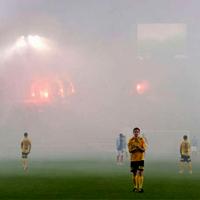 Behind closed doors, without any contact with supporters, Norwegian football association banned flares from Tippeligaen again, Aftenposten.no reads. No wonder fans aren't quite happy about it.
Not long ago both the Norwegian football association (NFF) and Supporters' Alliance (NSA) assured they have great contact and get along, a thing most European countries don't see in their own league systems.
In 2012 as a result of these relations pyrotechnic materials were introduced almost completely legally into the terraces. Fans needed approval for their actions and were under surveillance, but most importantly – they were allowed to create tifos with flares.
Today these exceptional terms are a memory only and it's only NFF still assuring of the great dialogue. Fans are disappointed with the way NFF handled their expectations. At a pre-season meeting behind closed doors pyrotechnics were again banned from the stands and the governing body didn't even bother to inform supporters explicitly about it.
Norwegian fans are still in a better position than many European counterparts, as they can light flares in front of the stands, but lost their chances to do it inside the terraces for now.
NFF argues that liberalisation of the rules didn't bring a decrease in cases of improper handling of flares (like using non-certified materials or throwing them while lit), of which Aftenposten names one – the derby game between Vålerenga and Lillestrøm from November, when game was halted for a moment.
Fans think that NFF is making a step backwards and increasing the risk of people bringing flares illegally and causing much higher risk. "NFF attempts to punish those not following the rules by punishing those who do follow them", says Bjørnar Posse Sandboe, spokesman for Norsk Suporterallianse (NSA). This kind of collective punishment is strongly condemned by NSA. "Pyrotechnics are a part of the terrace culture and we need to adopt a safe framework to deal with them in a safe manner – not sweeping them under the carpet and hope they go away", Sandboe says.