New design: Third 100,000-seater in Texas!
source: StadiumDB.com; author: StadiumDB.com team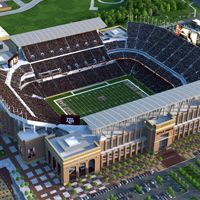 Officially only two other stadiums in the US and a few more worldwide will outgrow this monster. But in reality the competition is much bigger, with two contenders in Texas alone…
On May 1 the complex redevelopment of Kyle Field has been approved and may now begin. The central sports facility of Texas A&M (Agricultural and Mechanical University) currently holds 82,589 people, but still has plenty of room for expansion behind one end and in the corners.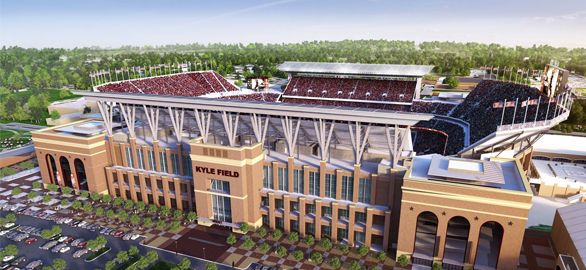 Img: KyleField.com
This is why decision was made to increase capacity to 102,500, with further 7,000 seats possible to add if need be. This immense size will allow Kyle Field to get on the podium of USA's largest stadiums, even if only 45 seats before Neyland Stadium.
Superiority in Texas isn't all that clear. On one hand the size does outgrow archrivals from Texas Memorial Stadium, but then that stadium also has plenty of room to grow. Then there's Cowboys Stadium, the domed giant which may have a permanent capacity of 80,000, but may easily grow to 110,000 for large events, already holding record crowds of over 100,000.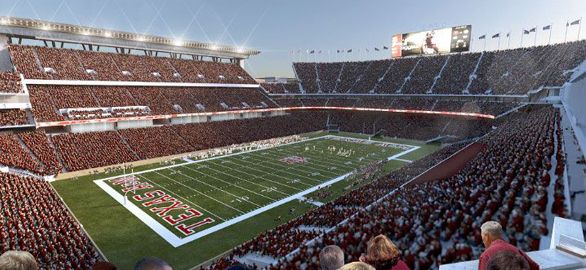 Img: KyleField.com
The project at Texas A&M will last from 2013 to 2015 and won't be limited to erecting new sections where there's room. The entire west stand will be torn down and rebuilt, pitch moved and sunken a bit more to add further rows.
Changes will also be done to the east section, mostly to squeeze in more premium seating. Corporate infrastructure may in fact prove most costly, as the stadium will get entirely new facades, behind which extensive spaces for various commercial and educational uses will be provided.
The price seems to fit estimated size – massive $450 million. It should mostly be covered by own resources of Texas A&M (donations, student fees and most of all new seating reservations and ticket revenues), but a new hotel tax for the next 30 years is also planned to support the plan.
Local team Aggies won't seize to use the stadium throughout the sequenced redevelopment, allowing for the cashflow to continue.