Madrid: This is Real's future?
source: elconfidencial.com; author: michał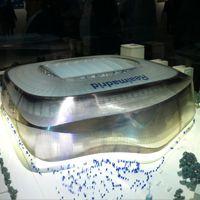 Although we're still weeks away from official announcements, Spanish 'El Confidencial' claims to have leaks confirming the final design of Estadio Santiago Bernabeu. The supposed winner is GMP Architekten from Germany.
It's been over half a year since Real presented the four amazing final designs, shortlisted after an open international competition. Despite the long wait we still don't know which of them will be implemented in the end.
Currently the decision over Bernabeu's future is expected in some three weeks, in early June. If made, this decision will begin a 6-month period for architects to make final alterations and deliver full documentation. With this phase done, permissions for public authorities should allow beginning of reconstruction – estimated at €250 million – in the summer of 2014.
So which of the four global practices will it be? According to 'El Confidencial' it's the team led by German GMP Architekten, supported by L35 Arquitectos and Ribas&Ribas. Their vision wraps the entire stadium in an abstract and asymmetrical cladding that allows light and ventilation inside. A retractable membrane roof is also planned.
Along Real's expectation, all four concepts envisage a large commercial extension on the west side of the stadium, making a new front towards the prestigious Castellan Ave. It would comprise a shopping mall, hotel and 500-vehicle underground car park. Capacity should stay around the current number, but may be subject to changes and an increase in corporate seats is expected.