Madrid: Real presented four finalists for Bernabeu revamp
source: StadiumDB.com; author: michał

During the General Assembly that has just ended in Madrid, four final concepts of the future Estadio Santiago Bernabeu were presented for public viewing. World's best architects will now await the selection of one of their works.
Quite like Barcelona, Real has been mentioning plans to redevelop their stadium for several years, but with little development around the issue. Just over a year ago initial renderings were presented of how the new venue might look. These were for the use of masterplanning, outlining future capacity of 95,000, commercial development and modern appearance as priorities.
Today we know a lot more about how the revamped ground may look as Real decided to present four finalists competing for the design. Mock-ups and renderings were presented during the recent General Assembly. As you can see below, in the very initial presentation, some of the best architects in the world took part. As soon as we get access to fine quality materials, those concepts will surely become part of our database.
Foster + De la Hoz
Sir Norman Foster, creator of new Wembley or the final design for Barcelona this time joined forces with renowned Spanish counterpart Rafael de la Hoz, known mostly for office projects. Their vision sees the current external staircase towers hidden among new office/retail space. Roof would be raised to the west, "opening" the stadium toward Madrid and providing a spectacular open viewing terrace on top of the stands, with room for restaurant and other uses.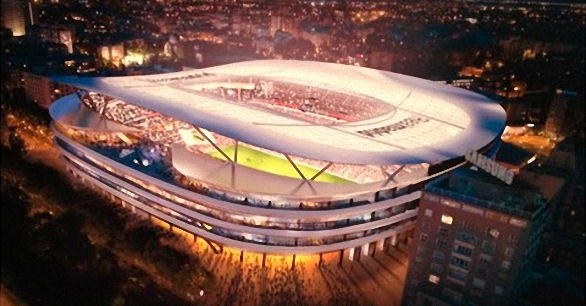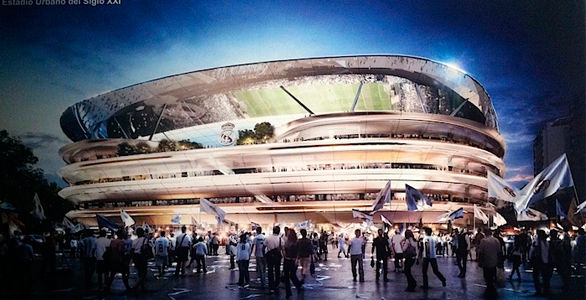 Herzog and de Meuron + Moneo
Second team consists of famous Swiss duo 'HdM', creators of Beijing stadium and Allianz Arena, and Rafael Moneo, also great architect (Pritzker winner), this time from Spain.
With no room for retractable roof, this vision emphasises the four towers in current stadium's corners in an attempt to connect future with the past. Between the four structures a new, more elliptical bowl is to be created, covered with translucent cladding. Stands will be enlarged with new level of seating built atop the existing ones. Interestingly, new giant screens are to be integrated into the roof's internal verge.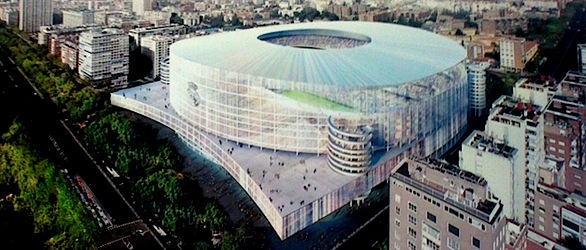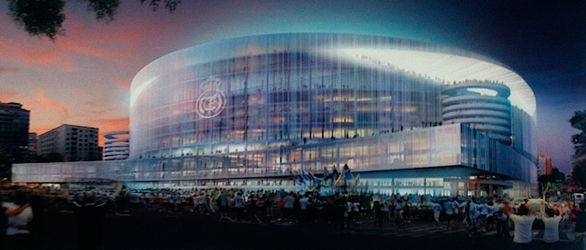 Populous + Estudio Lamela
Lamela, world-famous Spanish practice, seemed to be monopolists with Bernabeu as they were responsible for all redevelopments for a few decades. Now they teamed up with Populous, global leader in stadium design. Their vision is to preserve almost all of the existing structure, wrapping it with a dynamic lax facade that leaves room inside for future commercial developments under the stands.
All existing seating would seem almost unchanged – 5 tiers staying in place with only luxurious skyboxes and business seats added alongside the pitch.
This vision is the only one leaving room for a retractable roof.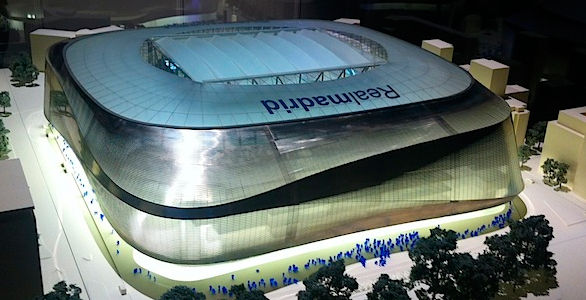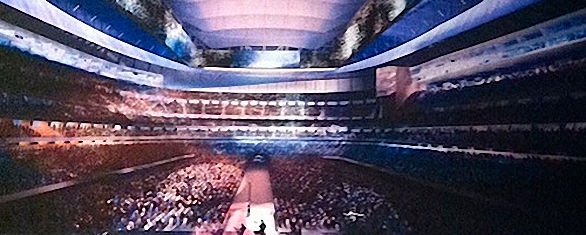 GMP Architekten + L35 Arquitectos + Ribas&Ribas
German GMP architects together with L35 and Ribas (only the first company with significant stadium portfolio) also seek to preserve most of the existing stands, increasing only the seating at the main stand that today is smaller than the surrounding ones. But atop of all the stands a massive ring with 4 floors (!) is to be created for possible skybox/commercial use, with new access routes leading to this part from ground level.
Additionally a commercial centre would adjoin the ground from the west, altogether wrapped in a geometrical shape. Facades resembling horizontal jalousies might become the world's largest screen.